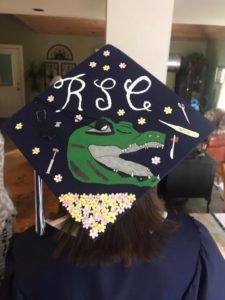 I didn't attend my high school graduation ceremony.  I didn't attend my college ceremony, either.  When I got my Ph.D., I finally showed up.  Maybe by then I realized I was embarking on a career where I would attend a commencement for the next –well now it is 34 consecutive years!  I suppose it has made me a bit of a connoisseur.
I thoroughly enjoyed the privilege of presiding over my first commencement at The Sage Colleges. It was a great day—as commencements generally are—fueled by the happiness and pride of 800 graduates and their families.  That's the most powerful force at commencement: the collective spirit of so many hopes, dreams, sacrifices, and hard choices.  The stirring commencement address from Cecile Richards furthered that spirit by inspiring students to work to create the world they want to live in.  The whole occasion is a vivid reminder of why we do what we do: colleges create opportunity and they give students the tools, knowledge and habits of mind to take advantage of the opportunities that come with the piece of paper.
That spirit is a good antidote for the tedium.  Let's face it, almost everyone in the room is there for the few seconds in which a particular graduate crosses the stage.  The other 799—not so much.
My role is to hand each student a diploma, shake his or her hand, and offer congratulations. The exercise is tiring, but each person I greet is crossing a threshold—and that shows in facial expression, gait and handshake.  There's excitement, nervousness, some tears.  Some bolt boldly across the stage, some dance, some barely seem to be moving.  I saw lots of faces, a wonderful in-person survey of who our graduates are, a visual montage of the demographic statistics we compile.
That graduation threshold is the key to tremendous opportunity for graduates in America—and for their descendants.  The obstacles they face to get there are often high, and they are much steeper for those who aren't privileged or are the first in their family to have such an opportunity.
In Sage's current student body, 61% are Pell-eligible.  That puts them in the family income brackets that correlate to under 20% attaining a bachelor's degree. When they succeed against those odds, graduation not only opens up possibilities for them individually, their success enriches the depth and diversity of the pool of educated citizens. In other words, individual and social goals are congruent, even though both amount to swimming against the tide that so powerfully correlates college graduation with family income.
Commencement was a wonderful conclusion to a great year: a year in which I was welcomed warmly, even eagerly, by the trustees, by the staff and faculty at Sage, by the students themselves, by the members of the Troy and Albany communities. We know every day why we come to work here, but commencement was a potent reminder.
Springtime at Sage also bookends commencement with the Russell Sage Reunion, and that, too, was a remarkable experience.
I spent the weekend meeting people who were more than glad to tell me how much Sage meant to them, to describe the friendship with a roommate that started thirty-five years ago and continues to this day, to narrate a life story in which a Sage education led to a rich and fulfilling career (sometimes in another field), to describe the Sage that they knew from four intense years various long times ago.
I heard great stories about Sage in WWII by a graduate from the class of 1948 I helped cautiously down the front stairs at Vail House; I heard rambunctious tales of trouble-making from a pretty darn lively 25th reunion class.  This was my reunion year, too.  Though not from Russell Sage, I was class of 1978, graduating forty years ago. It was also the year my older brother's generation hit their fiftieth—class of 1968.  And I enjoyed a dinner with that class of 1968 whose commencement ceremony came in the one month between Martin Luther King's assassination and Bobby Kennedy's.
But what better way to end my first year than to see our fresh and hopeful graduates cross the stage and our alumni of all ages take the time and make the effort to return to Sage and mark the years and see their classmates and reaffirm the value of their educations and their lives.
Now, following the seasons of the academic calendar, we turn our attentions to the arrival of new students, starting their journeys.  We will welcome over 500 students, beginning with July orientation.  I browse the accepted students Facebook page, where we are sponsoring a graduation cap design contest.  The high school graduations were last week, for the most part, and students decorate their caps with images of their imagined futures.  There was plenty of Sage green on the postings and even a plastic Gator or two.  Careers ranging from nursing to musical theater were illustrated; parents were thanked;  flowers, flags and flashing lights fitted out the head-topping dream maps.
The vividness of their designs is an important reminder to those of us in higher education: each group of freshmen is starting anew, each one of them is experiencing his or her first and only arrival in college. And we are here to support their energies and ambitions and guide them to that next commencement–and make sure the trip is worthwhile.