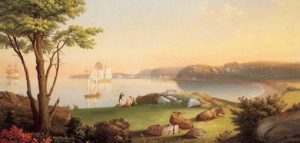 I arrived in the Capital District as president of The Sage Colleges almost two years ago, but I came with a deep tie to the Hudson River Valley.  My wife grew up in Hastings-on-Hudson, and during the twenty-five years we've been married, we have visited friends there several times a year. One of the first things that struck me about our new home here was how easy it was to cross the Hudson. Often we cross it several times in a day.
Back in Hastings, the Hudson is more than two miles across, the Mario Cuomo Bridge has a $5 toll, and the traffic is often mired.  Here, the river is narrower and the bridges plentiful and free.  That's a good thing, because I travel frequently between the Sage campuses in Albany and Troy, a trip of about twenty minutes.
So, as a newcomer, I was surprised to hear Albany and Troy folk talking about the Hudson as a cultural barrier and describing some people as reluctant to cross it.  Increasingly though, Sage students move back and forth between our campuses, taking advantage of our free shuttle and the different offerings on our two campuses.
We know they also enjoy the great neighborhoods of downtown Troy and the Helderberg neighborhood of Albany. The Troy campus of nineteenth-century brownstones blends directly into the shops and restaurants of the hip downtown. The Albany campus is nestled in an academic community with Albany Law, the College of Pharmacy, and Albany Academy, bounded by a lovely tree-lined neighborhood on one side and the growing Albany Med complex on the other. The capital of New York's trillion-dollar economy is only a couple of miles away.
The Capital District now understands that its strength and appeal lie in connecting diverse communities—the four cities and the intertwined suburbs.  In that spirit, The Sage Colleges have embarked on a plan to reorganize and reaffirm our identity as a single college with two campuses. We will return (effective fall 2020) to our original name of Russell Sage College, but as a coeducational college with campuses in Albany and Troy.
This coming fall, we celebrate seventy years of Sage in Albany; two years ago marked the centennial of the founding of Russell Sage in Troy. Sage is proud of its on-going interdependence with Albany and Troy, and of being part of the post-industrial rejuvenation of both cities.  Like the other great institutions of higher education and the arts and non-profit communities throughout the Capital District, we see our strength in our multiple locations and our diversity.
The river draws us back. It's a presence in our geography, our history, our economy, and in painting, literature, and architecture. Our students' lives seem a long way from the bucolic paintings of the Hudson River School above.  Yet the Hudson is as much a part of city life–from the Port of Albany to Manhattan's West Side.  Grace Paley, in a poem about the river, imagines a struggle between its southward flow and the force of the tidal estuary: "what a hard time/ the Hudson River has had/ trying to get to the sea," she writes. But that daily trek, she concludes, is a successful and incessantly repeated journey.
The river is perhaps the oldest metaphor for constant change in the midst of something that endures.  Our colleges change to meet the shifting needs of students and society but they retain their essential character and dedication to learning and human achievement. Sage's new strategic plan builds on our reputational strengths with a women's and gender institute to invigorate our feminist tradition in a contemporary coed context and explore pressing gender issues. We are also developing a new program–Sage THRIVE–that builds on our strengths in the health sciences, education, and art and design and offers a core value  that helps students combine professional success with a cultivated and individual sense of wellness and well-being.  Those and other initiatives bridge tradition and innovation.  Above all, our new plan celebrates a unified college proudly engaged on both sides of the Hudson.