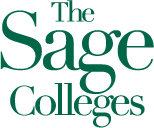 You can't miss the commercialism of the holiday season.  Many of the big retailers now call their employees to work on Thanksgiving Day to catch early Christmas shoppers, and that's followed by Black Friday, Small Business Saturday, and Cyber Monday—national "spend money" days.
So it is important that we also have "Giving Tuesday" and a heightened attention to personal philanthropy in the period ranging from Thanksgiving to New Year's.  "Giving" is literally part of Thanksgiving, and it is a natural part of the holiday exchange of presents.  Winter celebrations of plenty and feasting spur awareness of causes that support the less fortunate and help promote a better and more just society.
As a non-profit institution committed to social justice and serving the public good, the Sage Colleges depends on the philanthropy of our donors, and we highlight those causes in organized ways during the holiday season—this year through the five days of giving (Dec 4-8).
Perhaps it is a fitting time for a seasonal reminder of how colleges are financed and why private colleges especially depend on gifts and donations to serve their students well.  Like most colleges and universities, Sage is non-profit.  That not only means that every tuition dollar is spent on educating students, but that what we spend annually exceeds what we collect in tuition; it is supplemented by annual giving in excess of a million dollars that flows directly into the budget and additional gifts that support capital projects and endowment.
Endowment is not "profit," as some people mistakenly think.  Endowment is gift income that allows us, and other non-profits, to spend more on students than we collect in fees, to charge less than what we spend on achieving our mission.
In spite of how much we supplement tuition dollars with gifts, we know that college remains expensive and many families struggle to afford it.  At Sage, we work hard to control our expenses, and we have one of the lowest private college tuitions in the region.  And for families that can't afford the full tuition, we make generous scholarships available—more than $20 million annually.
The importance of the task we are engaged in was driven home by an op-ed in the New York Times this morning.  David Leonhardt summarizes a study called "Lost Einsteins" that looks at where the innovators who create patents come from.
Not surprisingly, students with high childhood math scores are much more likely to secure patents when they grow up. But there's a catch.  That's true only if they come from high income families.  "Low-income children who excel at math rarely become patent holders. They are less likely to hold patents than high-income students who do substantially worse in school."
This study starkly reveals the profound inequities of our society, inequities that education is only partially successful in addressing.  The title "Lost Einsteins" also reminds us that we all lose out when talent and brain power go undeveloped.  And patents and innovations are just one piece of the story.  The same logic applies in all areas of endeavor and creativity that help lift us as a society.
Charitable giving supports our ability to make college affordable—and that is a key part of our social mission.  The likelihood of a student graduating college is still tied closely to family income and parental level of education.  So everything we do is geared toward ensuring student success.  Whatever the income level of our students, we keep classes small and the community tight and supportive to make sure that every student has the best chance of graduating into a fulfilling career and life.
When we help first-generation college students achieve their educational dreams, we help level the playing field for them and their descendants. As educators, we have the great privilege of seeing those success stories every year. And we also add to the intellectual capital of our society in a way that benefits everyone.
Many of the people who give to Sage are graduates who are motivated by a desire to see students of this and future generations have the kind of experience and opportunities that proved so valuable to them. Still others give in honor of family members who valued Sage dearly. And others become engaged with Sage as residents of the Capital District enjoying our lectures, programs, theatrical productions, galleries and sporting events.  They appreciate the role of their local college in sustaining great neighborhoods with character.
We live in a time where, strangely, there has been unusual animosity toward higher education.  Much of that is, in my view, artificially engineered for political reasons. But there is nothing partisan about seeing that young people have good opportunities to enter the economy and be productive citizens. There is nothing political about graduating talented nurses, designers, physical therapists, teachers, counselors, and entrepreneurs.
At the core of our message is this: higher education is a public good.  We all benefit from a citizenry that is informed, engaged and prepared. And we also benefit from citizens who have internalized the idea of contributing to the social good.
Sage encourages those behaviors and habits of mind through organized service projects that involve students at multiple levels. Students begin as early as their first year through "day of service" activities to understand the value of working in community settings that depend on volunteer commitment to address social needs.  From that level of "episodic" engagement, they move on to more complex engagements with solving social problems and strengthening or creating organizations that address them.  A student who begins with an evening serving in a soup kitchen can end up creating a food pantry or working on global initiatives to combat hunger.
We know how much we depend on the generosity of our supporters and that drives our mission to graduate young people attuned to using their talents to make the world a better place. I hope you will join me in supporting the crucial work of American higher education.