August 16, 2017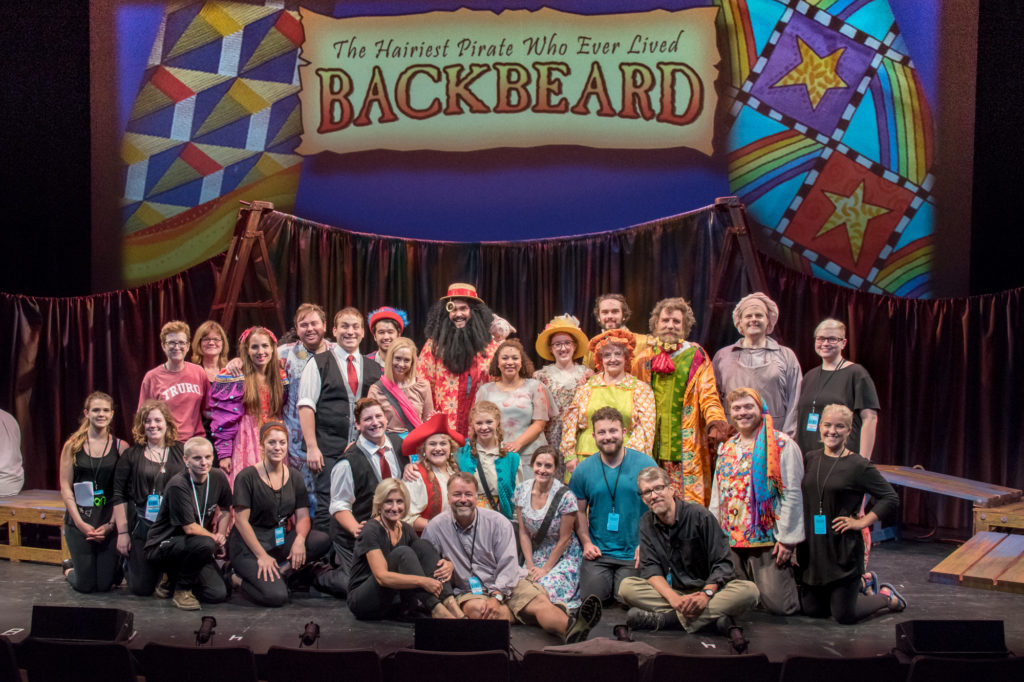 You're reading this, so I know you follow Sage news on Sage.edu and social media — and you've seen the rave reviews of Backbeard: The Musical – written, scored and directed by Sage faculty and starring students and graduates – at the New York Musical Festival in Manhattan.
The reviews naturally focused on Backbeard's "terrific score," "lyrics so incredibly witty" and "sweet story" (theatrepizzazz.com); "choreography…performed with precision and gusto" (Times Square Chronicles); and "wonderfully inventive scenic design" (theaterscene.net).
I joined Sage alumni at a sold-out performance at the Acorn Theatre on Theatre Row. While I echo the accolades above, as president of The Sage Colleges I am especially proud of Backbeard as an example of the professional experiences to be found throughout the arts programs (and throughout all the programs of study) at The Sage Colleges.  (more…)
July 22, 2017
The publication of the annual Pew Survey of American attitudes toward institutions has caused quite a stir regarding the politicization of higher education. The most noteworthy conclusion of the study was that partisan differences (i.e., Republican vs. Democrat) have significantly increased in the last two years regarding how respondents view college and universities.
"Two years ago, 54 percent of Republicans said colleges had a positive impact on the country's direction, with 37 percent rating higher education negatively." This year, 58% identified a negative effect, while only 36% saw college as a positive force in society. Party affiliation made a big difference: 72 percent of Democrats viewed colleges positively, while only 19 percent were negative.
What's going on? Surely the common good served by an educated populace is largely non-partisan in nature. The developments in medicine, science, technology, and industry that we see every day come from our educated citizenry. Colleges drive economic development in their communities. That an educated population best serves a democracy is a commonplace repeated on the left and right. Students from around the world still flock to the United States to study. And I suspect there is very little partisan distinction in the American love for collegiate sports (practically an obsession).
The answer lies in the inflated rhetoric of the Culture Wars and the exaggerated caricatures of college life built around a handful of stories meant to illustrate political conflicts on campuses running amok and resulting in embarrassing things like a controversial speaker being chased away.
Such events have indeed occurred, but they are mischaracterized as representative of college life. William Chace, former president of Wesleyan and Emory, makes this point persuasively in an article in "The American Interest"
Chace discusses the protest at Middlebury that stopped a lecture by conservative sociologist Charles Murray. He points out that Murray has spoken since at a dozen universities without similar incident. He notes that Middlebury is an elite institution that is not particularly typical of higher education. And even there, he notes, "most students are doing what students mostly do: study, talk to friends, waste time, worry, think about the future, party, and behave as young people always behave. " I might add that students are supposed to make mistakes as they figure things out, and seizing on particular moments for ridicule as young people explore their political identities and develop their own voices undermines our educational mission.
Sure, there are statistics that show that college students and professors are slightly more to the left than the general population. With faculty, this is true primarily in four-year colleges and in the arts and sciences, but less the case in professional disciplines and in other kinds of collegiate institutions. Even in the last bitterly contested presidential election, students went just one percent more for the Democratic candidate than the general population did.
Still, the partisan divide in how colleges are viewed that the Pew study reports reflects something real—and something that educators should be concerned about. Part of the cause, I am convinced, is the shift in political and social discourse to modes of communication in which outrageousness and extremity are awarded: political shock-jock radio and cable tv, reality television, internet memes and clickbait stories. In that world of inflated rhetoric, exaggerated stereotypes take the place of reality, and the cartoon is mistaken for the more nuanced thing itself.
Those of us who care about an educated America need to push back in ways that cross party lines: by making the case for how our colleges serve their communities and the economy, by teaching respectful discourse and serving as exemplars of it, by gently correcting stereotypes when we talk to people about life at Sage or wherever we study or have studied. We graduate Republicans and Democrats and Independents, just as we serve students diverse in religion, ethnicity, and sexual identity. An educated society grants us all a life that is decidedly richer and we shouldn't let the politics of the moment obscure that.
July 06, 2017
July 5 was my first day physically in the office as the tenth president of The Sage Colleges, thanks to the Independence Day holiday.
Independence Day is a holiday I particularly enjoy and find meaningful, perhaps partly for the pure sensory joy of fireworks (all that energy-and they only paint the sky for an instant). I recall memories of July 4 displays: as a little child holding my ears in a New Jersey park or years later in the North Georgia Mountains watching my young niece and nephew hold theirs; I think of all the great bodies of water that have served as firework backdrops for me–the Colorado River in Austin, Texas, the San Francisco Bay, the Pacific Ocean at the Santa Monica Pier, and the Chester River on the Eastern Shore of Maryland. In land-locked Atlanta, I watched the fireworks above the Confederate memorial (and one-time Klan rallying spot) of Stone Mountain and thought of Atlanta's most famous resident, the Reverend Martin Luther King, Jr., saying in "I Have a Dream" that he longed to hear freedom ring "even from Stone Mountain, Georgia." To all of those rich memories, I am thrilled to add the fireworks over the great Hudson River. (Well, I glimpsed the fireworks from the ValleyCats ball park from the windows of my temporary lodgings above the bagel shop).
Along with the sheer pleasure of fireworks, Independence Day is a holiday about what it means to be an American, a question that evolves with each generation. Increasingly for this generation, that answer may be shaped by the musical Hamilton, which is woven around the premise that all of our contemporary diverse, multi-cultural, immigrant-filled society is prefigured in the language and experience of the nation's founders. As they sing: "Immigrants: We Get the Job Done."
"What is an American?" Because of our history of colonization, immigration and being a haven for refugees, this is a perpetually vexed question revisited time and time again. Later in the fall, I'll be offering a lecture in the World Series on the RSC campus about race and jazz in Fitzgerald's The Great Gatsby that will touch on the hostility to Eastern and Southern European immigrants that characterizes the 1920s and shows up in that quintessentially great American novel.
The last few years remind us that these questions remain vexed. From the slander about President Obama not being really "American" to the complex debates regarding immigration reform to the proposal to construct a wall between the U.S. and Mexico, there is a lot about the question of "What is an American" that remains in dispute. Now, on this July 4th in 2017, the presidential executive order restricting travel from several Muslim-majority countries is partially in effect but awaits ultimate Supreme Court review. What could be a more vivid reminder that the story of America that we celebrate on July 4 is still being written? The conversation continues. And as painful as these disputes may be and have been throughout our history, it is good that we have them and that we live in a society that accepts and struggles to sort out divergent views.
Not quite midway between Alexander Hamilton and the present day sits Abraham Lincoln and his lesser known (but powerful) Independence Day speech delivered July 10, 1858 to a picnicking Chicago crowd, made up largely of German immigrants. Lincoln attacks his political opponent, Senator Stephen Douglas, and Douglas's argument that the line in the Declaration of Independence that says "All men are created equal" applies only to descendants of the original revolutionaries who penned it. Lincoln asks the crowd of German immigrants whether, if we believe that language excludes the people brought to America as slaves, will we also conclude it excludes later immigrants like the Swedes, Poles and Germans. Here's what he decides, enhanced by his own rhetorical fireworks:
"What are these arguments [limiting to whom "All men are created equal" applies]? They are the arguments that Kings have made for enslaving the people in all ages of the world… the same old serpent that says you work and I eat, you toil and I will enjoy the fruits of it… I should like to know if taking this old Declaration of Independence, which declares that all men are equal upon principle and making exceptions to it, where will it stop? If one man says it does not mean a Negro, why not another say it does not mean some other man? If that declaration is not the truth, let us get the Statute book in which we find it and tear it out! Who is so bold to do it! If it is not true, let us tear it out! [Long pause with shouting from the crowd.] Let us stick to it then; let us stand firmly then."
News reports describe the crowd shouting "No one!" when Lincoln asks who will tear the page out of the declaration. Indeed, there are crowd comments loudly interjecting throughout the stirring Independence Day speech—it was very much an audience participation event.
This all does have something to do with The Sage Colleges, I think. At Sage, our mission and history have consistently been dedicated to facilitating full participation in the social, economic and artistic fabric of society for people who might be excluded for want of access to higher education. Our development from our origin as Russell Sage College educating women (beginning three years before they gained suffrage) flows logically to our current identity carrying on that women's college tradition–but with co-educational programs as well–and campuses and a student body that are ethnically and economically diverse and include many students who are the first in their families to graduate from college.
I'm confident that our graduates will participate in these debates and lead them. That's another way the faculty, staff and administration contribute to the on-going American conversation: by preparing the next generation of leaders.
That is an American vision to celebrate on July 4 on the banks of the Hudson.
July 05, 2017
You have stumbled onto the web log of Chris Ames, tenth president of The Sage Colleges. This is the very first post: a welcome to any readers who come this way. I hope you will find something of interest, but I know full well that, if you don't, you don't need to linger.
That reminds me of advice I heard author Jane Smiley give a group of creative writing students. She told them to remember that there was no reason to expect anyone to be interested in what they had to say. It was shocking advice, but refreshing. When I did some research to see if she'd published this advice, I came across this passage of hers:
"When I was a student at the Iowa Writers' Workshop, I remember opening the door to my friend's office and looking inside. Over her desk, above her typewriter, she'd tacked up a phrase: NOBODY ASKED YOU TO WRITE THAT NOVEL. I knew right away this was going to be an important idea for me. The line reminded me that writing was a voluntary activity. I could always stop. I could always go on. And since no one's asking you do it, I've always seen writing as an exercise of freedom, rather than an exercise of obligation."
Given that NOBODY ASKED ME TO WRITE THIS BLOG, let me say something about what I hope it will accomplish. It will be part of my emphasis on communication of all kinds, communication through listening to everyone who cares about Sage, through being open and transparent with our community about decision-making, through communicating in open forums and at faculty meetings, through meeting frequently with students, faculty, staff, alumnae and alumni to share stories, and through tapping multiple channels of communication—formal and informal.
Like the students we will welcome to orientation in a few weeks, my most telling characteristic is that I'm new here. I hope to record my reactions to life at Sage and offer some connections between Sage and my experiences elsewhere, as well as connections with what's happening in the nation in higher education. So this blog is a place for personal reflection and the occasional provocative idea to stimulate discussion—and a place to celebrate the many, diverse elements that make The Sage Colleges a wonderful place.
If you've made it this far: thank you.
Chris Ames
President, The Sage Colleges