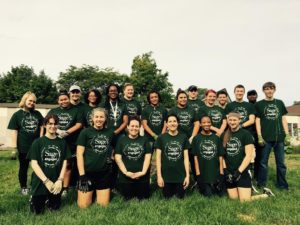 I just returned from representing Russell Sage College at the Women's College Coalition annual meeting, hosted this year by Agnes Scott College and Spelman in Atlanta. I had the opportunity to meet with other presidents of women's colleges and share ideas and information on a range of topics. The increased diversity of women's colleges was a theme, as was the demonstrated success of women's colleges in successfully graduating low-income students: perhaps because our history is so deeply rooted in creating educational opportunities where societal prejudices have limited them.
The conference also focused on the promotion of civic engagement.  As Mary Hinton, President of the College of St. Benedict put it, we educate for common good—for all, not just for us.
That discussion made me think of two different but equally important events that took place at The Sage Colleges in September: the Corporate Connections Reception and the Sage Engaged day of community service. Both events are reminders of how Sage is intertwined with the community in which we live and work.
The Corporate Connections Reception is a thank-you to the 62 companies that provide $1000 scholarships to seniors in need of additional funds as they finish their education and prepare to enter the job market.  The event gives the student recipients a chance to thank and talk with their corporate sponsors, many of whom also hire our students as interns and our graduates as regular employees. That the program grows each year and has raised over $1 million going directly to our students is evidence of how our graduates fuel the local work force—and how well our corporate partners understand that. We prosper together.
We generally think of how college education benefits and creates opportunities for our graduates.  And it does—Sage students succeed.  But that success drives the common good as well. We all benefit from an educated populace.
"Sage Engaged" is a day of volunteer work throughout Albany and Troy in which our students (with staff help) partner with local non-profits to address community needs.  It offers our students an introduction to the potential and the rewards of community service. This year the event was a resounding success and was set during the term rather than orientation to involve all students, not just entering new students.
Ultimately, the goal of programs like this is to improve our communities.  The provost at Spelman, Sharon Davies, stressed how instead of cataloging how many hours their students serve, they focus on what they accomplish in the community. At Sage, we share the idea that community service develops through a student's education and life from episodic engagement (spending a day helping a food pantry, for example) to higher-level addressing of social problems (taking action to reduce poverty and hunger).
Core programs like WORLD at Russell Sage and I.Think at Sage College of Albany ensure this is a part of every Sage student's experience.  Both programs stress education for engagement and develop that progressively over the four years of a college education.
In the debate over the value of higher education, we have too often reduced it to a comparison of the cost of education compared to the salary value of the degree.  While that comparison indeed reveals that college is an extraordinarily good investment, it fails to count the multiple ways that our colleges provide intellectual and social capital to our communities: direct economic impact, attractive green space, cultural events, committed faculty as thought leaders, student community volunteers and interns, and a steady flow of educated graduates committed not just to bettering themselves but to creating a better world for everyone.