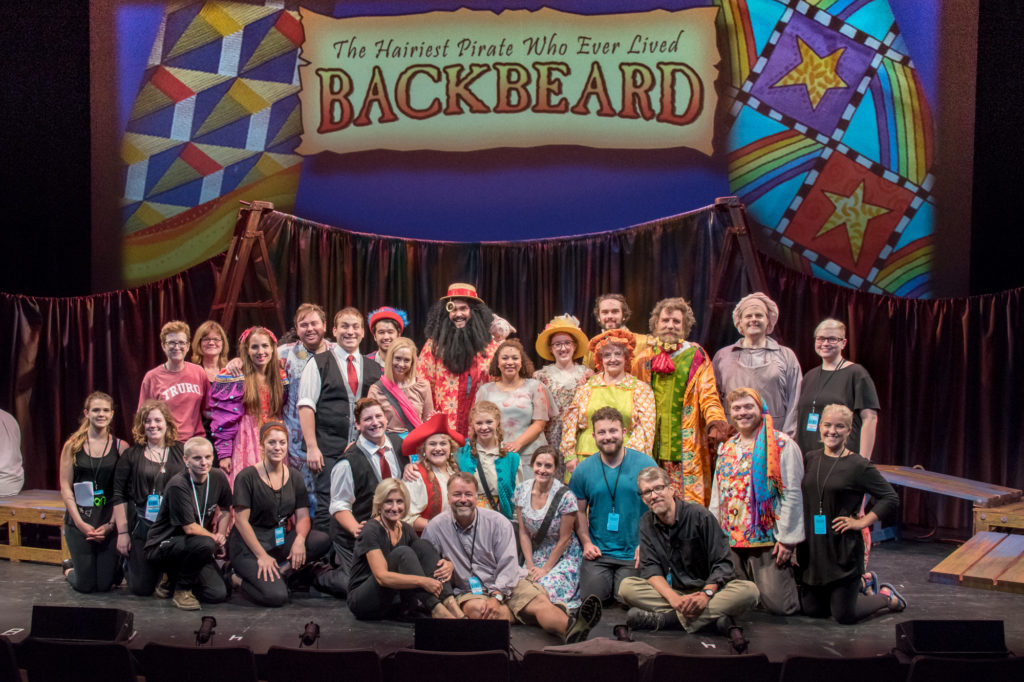 You're reading this, so I know you follow Sage news on Sage.edu and social media — and you've seen the rave reviews of Backbeard: The Musical – written, scored and directed by Sage faculty and starring students and graduates – at the New York Musical Festival in Manhattan.
The reviews naturally focused on Backbeard's "terrific score," "lyrics so incredibly witty" and "sweet story" (theatrepizzazz.com); "choreography…performed with precision and gusto" (Times Square Chronicles); and "wonderfully inventive scenic design" (theaterscene.net).
I joined Sage alumni at a sold-out performance at the Acorn Theatre on Theatre Row. While I echo the accolades above, as president of The Sage Colleges I am especially proud of Backbeard as an example of the professional experiences to be found throughout the arts programs (and throughout all the programs of study) at The Sage Colleges. 
Several of the 15 students and graduates among the Backbeard cast and crew emphasized this in a roundup on Sage.edu. They spoke of learning alongside their professors as Backbeard emerged from an idea to a workshop piece to a full, award-winning production; of the exhilaration of living and working in New York City for an extended period; and of other opportunities their Sage education helped open up, including a semester studying acting in London, a directing gig at the Mac-Haydn Musical Theatre Workshop, a role in the New York Shakespeare Festival and graduate school at Yale.
A creative team in our Art + Extended Media department also recently celebrated the conclusion of a high-profile project many years in the making. Four students (now alumni) led by Professors Lynn Capirsello and Sean Hovendick designed an album cover and collateral material for singer/songwriter Anna Ross. Check out the cover art and the Sage College of Albany credit at Yahoo! Music (where you can also hear a single co-written by Duran Duran's Simon Le Bon). Earlier this year one of the designers, a member of the Class of 2016, interviewed for a position in the executive chamber of New York State Governor Andrew Cuomo — a prestigious and demanding position for anyone, but especially a recent graduate. She used the Anna Ross project and a catalogue she helped produce for an Opalka Gallery exhibit as examples of her experience with tight deadlines, teamwork and client feedback — and got the job!
I look forward to sharing more examples of professional preparation leading to real-world opportunities with you in coming weeks, from students in the Collegiate Science and Technology Entry Program conducting research to Management students excelling at internships.
I'll conclude with another note about Backbeard — it received the Best Theatre for Young Audiences award at the conclusion of the New York Musical Festival, a well-deserved honor for the Sage Theatre Institute and this vivid play. If you missed it or want to catch it again, I have good news: it is part of the 2017-18 season at the Theatre Institute at Sage.