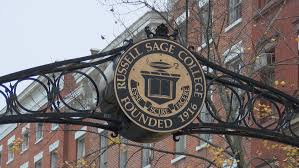 In the new strategic plan for Sage (to be released in full in March 2019), we talk about our institution's long-standing reputation for excellent professional and pre-professional education going back to a founding to teach the "practical liberal arts," a phrase many educators might consider an oxymoron. But rather than being a contradiction in terms, "practical liberal education" suggests that it may be counter-productive to separate liberal arts education from the pre-professional.
At Sage we are proud that we graduate liberally educated students in the professions and professionally prepared students in the liberal arts.  But what do we really mean by "liberal education" in this context?  We hear a lot about the vexed term, "liberal arts," without necessarily sharing a clear definition.  The discussion requires disambiguating three different, overlapping meanings of the term.
"Liberal Arts College" is a term that has a lot of meaning for prospective students and their parents.  It describes a kind of institution and with it a set of values: an institution with a faculty of genuine teacher scholars dedicated foremost to teaching in interactive ways in small classes.  A liberal arts college is largely residential and reflects a belief that college is an experience that educates the whole student; it isn't just an assemblage of forty classes.  The scale of such institutions allows for a relatively low student/faculty ratio and ensures that students are treated as individuals not numbers.
"Liberal arts curriculum" is how faculty usually understand the term liberal arts.  It is a view of higher education as engaging students with what Matthew Arnold called "the best that has been thought and said," giving students the tools to join in conversations that range the ages. A liberal arts curriculum is based on the belief that individuals' lives—and the society as a whole—are richer when we are conversant with human history and the history of ideas; with the range of creative expression across the centuries in music, literature, art, theatre and dance; and with the most rigorous means developed in the natural and social sciences to understand human life, society and the natural world.
This liberal arts curriculum is counter-cultural in that it acts as a supplement or corrective to the limitations of the contemporary commercial culture in which we are immersed.  In the competition for what marketers call "mind-share," the liberal arts curriculum speaks up for knowledge that has institutional authority but not commercial currency.  As education has become more democratized—and as culture has become increasingly dominated by commercial and profit-driven discourses—the role of the traditional liberal arts curriculum becomes more consequential.  That is, there are fewer places outside the academy that celebrate and propagate rigorous scientific and historical understanding.
 "Liberal Learning" is a term that recognizes that the liberal arts experience does not just teach subject matter but also habits of mind—ways of thinking and acting that promote lifelong learning.  Those key habits of mind support the idea of freedom implied in the word "liberal" in that they strengthen citizen engagement in democracy, but they are eminently practical, with all kinds of applications in the world of work.  They are: the ability to think critically and analytically; the ability to write clearly, to speak well and to give an effective presentation; the ability to use mathematical skills in reasoning; the ability to conduct research independently; the ability to understand perspectives and experiences very different from one's own; and the ability to work effectively in groups.
At Sage, these conceptions of the liberal arts all inform a curriculum and an educational environment that includes both traditional liberal arts disciplines and professional schools.  Indeed most of our students are enrolled in professional programs like nursing, health sciences, education, law and society, business management, and a strongly professional art and design major.  The liberal arts curriculum lives primarily in their core or general education experience, but the habits of mind or skills associated with liberal learning permeate the curriculum, and the small, residential college offers the experience most often associated with a liberal arts college.  We aren't a traditional liberal arts college; rather, we resist the arbitrary division between liberal learning and professional preparation.  We believe we need and we provide liberally educated nurses, physical and occupational therapists, managers, graphic designers, and teachers.
The founding correspondence of Russell Sage College is consistent with this vision.  Eliza Kellas, who promoted the idea of the college to Olivia Slocum Sage and served as its first president, advocated a professional school, "Truly this is a time of specialized training, and if young women are to fit themselves thoroughly to succeed they must have an opportunity for careful and thorough training."  The college was founded on a belief "that modern women must train to earn their own living in the professions and business."  And yet the environment of the college has always had the shape and feel of a liberal arts college.
The great essayist and poet Wendell Berry writes: "It could be said that liberal education has the nature of a bequest, in that it looks upon a student as the potential heir of a cultural birthright, whereas a practical education has the nature of a commodity to be exchanged for position, status, wealth, etc. in the future. . . .  But these definitions, based on division and opposition, are too simple.  It is easy, accepting the viewpoint of either side, to find fault with the other.  But the wrong is on neither side; it is in their division" (from The Unsettling of America: Culture and Agriculture).
Berry is exploring the place of agriculture in the development of American higher education, but his discussion is illuminating for understanding the vexed relationship between liberal and professional study today. Berry cites the language used in the Morrill Act that created land-grant colleges. He stresses that the act envisioned education as "liberal and practical," but that the history of American education has been one of liberal or practical.  Berry sees each approach impoverished without the leavening of the other.  So, as much as Berry might bemoan the excesses of the commercialization of education, he sees the truly desirable American version of formal learning as a balance that restores the "and" in "liberal and practical education":  "Without the balance of historic value, practical education gives us that most absurd of standards: "relevance," based upon the suppositional needs of a theoretical future.  But liberal education, divorced from practicality, gives something no less absurd: the specialist professor of one or another of the liberal arts, the custodian of an inheritance he has learned much about, but nothing from."
Ultimately, the term "liberal arts" itself (which does not refer to liberal politics or the fine arts) may not be necessary in thinking about what a college graduate should know. What is needed is an education that gives students the practical skills for today and the depth of learning and habits of mind to sustain a lifetime in a changing world.  Sage, like Wendell Berry, acts on the belief that it is better to stress the "and" between liberal and practical education and help our students develop the sensibilities to succeed and to live rewarding lives.