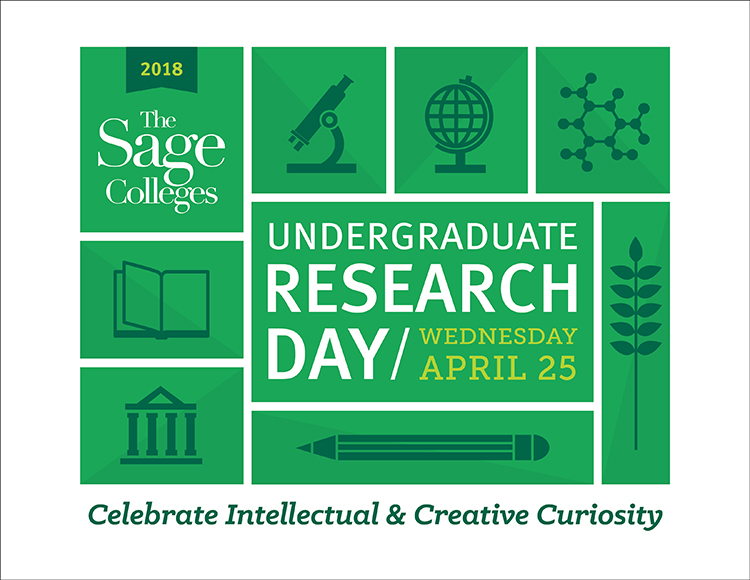 Wednesday, April 25, 2018
Sponsored by the Kathleen A. Donnelly Center for Undergraduate Research, the Provost of The Sage Colleges, the Dean of Russell Sage College, and the Dean of The Sage College of Albany
Student presentations: Papers, Posters, Performance, Dance, Music, Honors Projects, Honors Course Projects, Class Projects and more.
Contact: Dr. Janel Leone, [email protected] or 518-292-1975
[Last update: April 20, 2018]
Schedule for the Day
7:30-9:30 am: Refreshments – Buchman Pavilion, Troy
7:30-9:30 am: Refreshments – KCC (2nd Floor), Albany
7:45 am-12 pm: Presentations – Various Locations, Albany & Troy
12-1 pm: Lunch – Armory Shed, Albany
12:15 pm: Outstanding Faculty Mentor – Armory Shed, Albany
Award presented to Professor Maureen Gokey
1 pm: Undergraduate Research – Armory, Albany
Symposium (see complete schedule below)
Sage College of Albany Campus (Albany)

BUS 424-10: Business Strategy II
Assistant Professor Kevin A. Fletcher
8:00-9:15 am
KCC 224
Business Strategy II students will be presenting the results of a semester-long online business simulation.  Each team of students has made financial, R&D, manufacturing, marketing, human resources, and total quality management decisions for a mock business, in competition with other teams and computer teams.  The comprehensive business simulation requires student teams to develop specific market strategies, create and finance changes to product characteristics to meet market segment demand, and project a full range of business needs over an 8-year cycle.
Biology and Health Sciences Honors Project Symposia
Department of Biology and Health Sciences
8:00-9:15 am
KCC 105
Students in the Biology and Health Sciences Department can complete an honors research project as a culminating two semester course for their degree. The student is mentored by a faculty member for their year-long research project.  Research can either be performed at The Sage Colleges or at an outside institution. Students are required to present their data in two ways: at the honors symposium and with a research paper. The honors projects help provide students with valuable skills that are needed for graduate programs or careers in biological and health sciences.
HUM-403: Community as Text
Assistant Professor Maureen M. Gokey
8:30-10:30 am
KCC 347
Students in the Writing and Contemporary Thought Program will present the results of their capstone projects. Specifically, students were asked to develop a project addressing one of the following modes of critical and/or creative investigation, intervention, contextualization, interpretation, or production: (a) to introduce a new idea of literary, theoretical, philosophical, artistic, or textual study; (b) to reconsider and reframe an older notion related to theory, philosophy, artistic endeavor, or textual studies in light of new information, theory, and research; or (c) to question and intervene with a text/theory/work of art based upon a variety of critical perspectives, offering new insights into how to understand that text within a contemporary framework.
GMD 406: Graphic + Media Design Senior Capstone
Assistant Professor Leah Rico
9:30-11:30 am
KCC 224
The Graphic + Media Design seniors will present the research, development, and outcomes of their Capstone projects. In this course, students have developed unique content and visual communication solutions that push the boundaries of traditional graphic and media design practice. The projects presented explore visual communication solutions for social, economic, business, and health issues, using the course to explore opportunities for large-scale, collaborative and multi-dimensional projects.
ACC/BUS 327-328 Internship
Associate Professor Eileen Brownell
9:30-10:40 am
KCC 105
Business Administration and Accounting bachelor degree students will provide a brief overview of their internship experience.  Interns will report on their learning objectives and how these objectives were accomplished.  Advice for future interns will be part of the discussion.  Audience members will have an opportunity to ask interns questions.
BIO 427: Internships in Biology and Health Sciences
Department of Biology and Health Sciences
9:30-10:30 am
KCC Gym
Students in the Biology and Health Sciences Department often complete a 120-hour internship as a culminating course for their degree in our programs.  It is thought that obtaining experience in their field of interest allows students to apply theoretical skills to practical work situations, enables students to develop effective interpersonal skills in the workplace and provides students with the opportunity to test their aptitude for a particular career.  This year students have completed internships in fields including physical therapy, adult care, animal care, dentistry, scientific research, and hospital care.  These students will present information on the goals they established for these internships, whether they met these goals, the content of their work and how these internships helped in creating a path for their career choices.
Award Ceremonies
TriBeta Induction Ceremony
10:45-11:45 am
KCC 105
The Beta Beta Beta National Biology Honor Society (TriBeta) is a society for students, particularly undergraduates, who are dedicated to improving the understanding and appreciation of biology study and extending the boundaries of human knowledge through scientific research. Since its founding in 1922, more than 200,000 persons have been accepted into lifetime membership, and more than 553 chapters have been established throughout the United States and Puerto Rico. The Chi Alpha chapter includes all qualified biology majors at The Sage Colleges.
Presentation of the Libraries Research Award
11:00-11:30 am
Multicultural Center, KCC 347
The Sage Colleges Libraries Research Award recognizes papers or projects that demonstrate exceptional use of library resources. Papers are judged based on the demonstrated ability to use library resources effectively and on the overall quality of presentation. The Sage College of Albany winner is recognized.
29th Annual Writing & Contemporary Thought Poetry and Fiction Writing Contest
11:00-11:30 am
Multicultural Center, KCC 347
* Presented in the same session as the Presentation of the Libraries Research Award
29th Annual Writing & Contemporary Thought Poetry Award: Three awards are given for original poems. First, second and third place winners are recognized.
Fiction Writing Award: Offered by the Writing and Contemporary Thought Program each year for outstanding fiction writing. First, second and third place winners are recognized.
Russell Sage College Campus (Troy)
Honors Program: Oxford-Style Tutorial
Moliere, French Annex
9:00-10:00 am
Sara McCawley and Sagan Leggett, "Dependency and Destruction of British Country Estates"
Claudia Gagnon and Kelly Clinton, "Religion and the Supernatural in Daphne DuMaurier's Rebecca"
Kathryn Ashworth, "Disability, Entrapment, and the British country Estate"
Kylo Reilly, "The Test of Time: The Rise and Fall of Theatres on Broadway"
Camryn Beck and Charles Barnett, "Pulling Back the Curtain: An Examination of Current Broadway Advertising Strategies"
Nursing
Bush Memorial & Buchman Pavilion
8:00-11:00 am: Nursing Nexus Poster Presentations (Bush)
Health Fair
Buchman
Psychology
Gurley 304
9:00-11:00 am: Senior Seminar Presentations
Susan-Mary Bates:  "The Impact of Yoga on Eating Disorders"
Leslie Boice:  "The Benefits of Occupational Therapy for Stroke Patients"
Abigail Mills:  "The Benefits of Early Cochlear Implantation on the       Development of Language"
Nicole Soultanian:  "The Role a School Counselor Plays in Preventing Bullying and Fostering Academic Achievement in Students"
Sociology
Shea 201
10:00-11:00 am: The Doris Adams Ferguson '53 Lecture
"Community Mental Health in Post-Katrina New Orleans"
By Javeiya Cognetta-Anderson
Symposium Schedule
12:00-1:00 pm: Lunch, Armory Shed
12:15 pm: 2018 Presentation of Outstanding Faculty Mentor Award
Professor Maureen Gokey, Assistant Professor of Writing & Contemporary Thought, Interdisciplinary Studies Department
Poster Presentations
1:15-2:45 pm
Armory Shed
Saba Abuzaid and Stephanie Afena, "Diseases Then and Now: Influences on the Global Population"
Kathryn Ashworth, "Entrapment, Disability, and the British Country Estate"
Camryn Beck and Charlie Barnett, "Pulling Back the Curtain: An Examination of Current Broadway Advertising Strategies"
Claire Bracco, "Kombucha Health Benefits"
Lindsay Callahan, "Antimicrobial Efficacy of Silver Nanoparticles and Titanium Dioxide"
Megan Frisbee, "Time Kill Method for Solar Disinfection of Contaminated Water"
Derek Larson, "Correlations Between Water Practices in Obunga Slum and Prevalence of Waterborne Disease"
Sagan Leggett, "The Impact of pH and Temperature on the Efficacy of Nanoparticles During the Production Process"
Darcie Lyle & Cassidy Pratt, "Minding Baby: Changes in Child Care Since Florence Nightingale"
Kyle Peterson, "The Correlation Between Sanitation Practices and Disease Prevalence in Obunga Slums, Kenya"
Jim Reeves, "Guts For Glory"
Kaitlin Ruscetta, "Radon Exposure, Disease, & Prevention"
Emily Taylor & Asiyah Moore, "Colonialism and Feminism: The Case of Mary Seacole"
Leah Tomisman, Sarah O'Leary, Lauren Szczepaniak, and Caitlin Bean, "Lady with the Lamp Practices: Illuminated, Yet Contrasted"
Alicia Travis & Lindsey Van Epps, "The Advantages of using Real-Time PCR to quickly and efficiently determine the efficacy of SODIS Method.
Emily Taylor, "#WeToo can support #MeToo: The 'grey area' of Affirmative Consent and the Aziz Ansari allegations"
Oral Presentations
1:00-1:45 pm: Session 1A: Art & Design 1 (ARM230) (Sean Hovendick, Moderator)
Emily Hill, "Design Aiding Recovery"
Allison Havens, "Out·Let"
Jami Frosell, "STEM We Can"
1:00-1:45 pm: Session 1B: English and Psychology (Renaissance Room) (Dr. Julie Lindenbaum, Moderator)
Cydney Rogers, "Study of Animal-Based Entertainment"
Jennifer Liqouri, "The Desensitization of School Shootings in Mass Media"
Zachary Bishop, "The Effect of Attachment Style on Aggression"
2:00-2:45 pm: Session 2A: Art & Design 2 (ARM230) (Dr. Melody Davis, Moderator)
Kylie Heusel, "Busted"
Hannah Fisk, "Well Women"
Emma Dickinson, "Remark"
2:00-2:45 pm: Session 2B: Natural Sciences (Renaissance Room) (Dr. Tonya Moutray, Moderator)
Joanna Tavolaro, "Analysis of Water Quality Using The DelAgua Portable Test Kit"
Kali Moran, "Identification and isolation of novel bacteriophages against Mycobacterium abscessus"
3:00-3:30 pm: Session 3A: Art & Design 3 (ARM230) (Dr. Kristi LaMonica, Moderator)
Mia Murphy, "Food for Thought"
Leah Von Fricken, "Face Valued"
3:00-3:30 pm: Session 3B: Writing & Contemporary Thought (Renaissance Room) (Dr. Jeffrey Soleau, Moderator)
Grace Camacho, "Stereotypes in Horror Cinema"
Hajar Hussaini, "Post 9/11 Hollywood: a Neo-Orientalist Critique"