Associate Professor, Educational Leadership
Director of Doctoral Research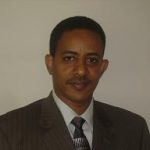 Troy, Education Building, Room 209
518-244-4629
[email protected]
Education
Ph.D., Educational Administration, Illinois State University
M.S., Educational Administration, Eastern Illinois University
B.A., Education, Addis Ababa University
Courses Taught
EDL 741 Foundations of Inquiry I
EDL 745: Introduction to Research
EDL 747  Research Methods II
EDL 755  Doctoral Research I;
EDL 756  Doctoral Research II.
Research Areas
School Safety
Education policy and practice in developing countries
Functional-Dysfunctional Organizations
Selected Peer Reviewed Articles
Alemu, D. S. and Tekleselassie, A.A. (2011). What lesson can Ethiopia take from the United States in addressing issues of language of instruction? Creative Education (2) 4, 402-
Alemu, D.S. (2010). Expansion vs. quality: Emerging issues of  private-for-profit higher education institutions in Ethiopia. International Review of Education Journal, 56 (1)
Alemu, D. S. (2010) Missing: Students' global outlook. Kappa Delta Pi Record Journal, 46(2), 54-
Alemu, D. S. & Shinault, T.C (2009). A comparative analysis of schools with and  without shooting incidences(Using SSOCS data from NCES). Journal for Effective Schools 8 (2)  33-46
Alemu, D.S. (2007). Do school security efforts make students feel safe? Using the 2002 Education Longitudinal Studies (ELS: 2002).Journal for Effective Schools, 6 (1) 15-24
Awards/Recognitions
Named Global Ambassador of Eastern Illinois University, Charleston,IL, USA, September 2014.
Distinguished Service Award (Nominee), The Sage Colleges, 2013
Emerging Scholar Award (Nominee), American Educational Research Association (AERA, Division A), 2011
Jackson Scholar, University Council for Educational Administration (UCEA), 2006, San Antonio, TX.
Professional memberships/Affiliations
Northeastern Educational Research Association, (NERA),
American Educational Research Association, (AERA)
National Council of Professors of Educational Administration (NCPEA)
American Evaluation Association(ACA)