The Bachelor of Science degree in Sport and Recreation Management consists of courses that integrate knowledge from business, sport and recreation in order to provide graduates with the skills to meet the challenges of a sport professional in the increasingly competitive sport and recreation industry. The North American Sports Market will be $75 billion by 2020, according to Plunkett Research.
The program is for students who are interested in pursuing entry-level management careers with professional and minor league sport teams, collegiate-level athletic departments, private and public fitness facilities, club-level athletic teams, town parks, or as an entrepreneur.
In addition, graduates may decide to pursue advanced-level coaching careers or work within private sport companies in a variety of roles.  A wide-range of positions are available including ticketing manager, sales manager, marketing relations representative, advertising manager, athletic director, and community coordination director.
Students may seek acceptance and matriculation into the MBA program at the School of Management at the time of initial application.
Interactive Learning
The Sport and Recreation Management educational experience includes: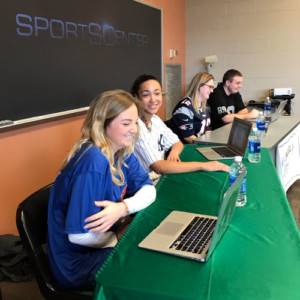 Completing an Internship
Analyzing current ethical and legal sport issues
Debating contemporary issues of sport management in an ESPN Sports Center format
Learning from course content – both theoretically and practically – focused on management, marketing, coaching, sport nutrition, sports law, facility management and event planning
Developing skills and ability to be in a management position leading a team
Connecting to sport professionals through class guest speakers
Internships
Current partnerships for Sport and Recreation Management interns include News10 Sports Center, Brockton Rox (Boston, MA), Times Union Center, University at Albany, The Sage Colleges,New York State Public High School Athletic Association, the Miami Heat, Adirondack Thunder Hockey, Freihofer's Run for Women, the Tri-City ValleyCats, and numerous recreation centers in the Capital Region. More partnerships are currently being developed.
Intern Spotlight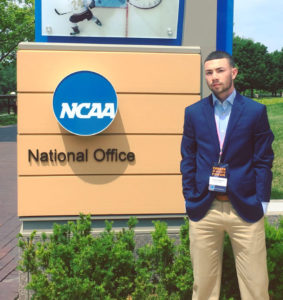 Casey Fitzpatrick SCA, '18, a member of both The Sage Colleges Men's Tennis and Volleyball teams, is interning during the fall 2017 semester at the New York State Public High School Athletic Association (NYSPHSAA).
Requirements
The BS in Sport and Recreation Management degree requires a minimum of a 2.75 overall GPA for acceptance for high school graduates or transfer students as well as for successful program completion.
In addition to the program course requirements (major and general education courses), students will be required to provide documentation of valid and current certification for First Aid/CPR/AED training prior to graduation.
Required Courses
Complete all of the following (courses are 3 credits unless otherwise noted):
BUS 204 Principles of Marketing
BUS 205 Principles of Management
BUS 212 Business Law I
BUS 213 Business Law II
BUS 308 Human Resources Management
BUS 335 Management Info Systems
BUS 340 Leadership & Diversity
BUS 362 Sport Management
BUS 363 Sport Marketing
BUS 430 Sport Law
BUS 431 Sport Facility and Event Management (Capstone)
SCI235  Sport Nutrition
PED 110  Intro to Physical Education
PED 225  Concepts of Fitness and Wellness
PED 215 Fitness Activities in Physical Education (.5 credits)
PED 217 Current Trends in PE & Recreation (.5 credits)
PED303 Target/Invasion Games or PED304 Net/Wall/Fielding/Striking Games or PED240 Sports Medicine
PED308 Educational Gymnastics (.5)
PED330 Cooperative and Adventure Games (.5)
PED 350 Sport Psychology
PED 409 Coaching Theory (2 credits)
PED 420 Organization & Administration
PED 427 Experiential Learning or BUS 327 Experiential Learning
Students are also required to complete the General Education Requirements.
Resources