The Creative & Performing Arts programs at Russell Sage College offers undergraduate degrees in Theatre, Musical Theatre and Creative Arts in Therapy with concentrations in Dance, Music, Theatre or Visual Arts.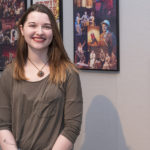 "I've been given the opportunity to explore, not just in the theater world, but to find out who I am as a person. I've been running entire theatre productions, in a professional environment, as a 17 to 19 year old kid!" – Meet Business and Theatre major Kaitlyn Kern '22
Sage's Creative & Performing Arts programs include a liberal arts foundation so that students will have the knowledge of other disciplines to deepen their personal expression. Classes are led by faculty who are dedicated teachers and talented artists in their own right. The Theatre Institute at Sage provides professional theatre experiences for Sage students, and arts-in-education programming to area youth and teachers.
Theatre students gain professional experience through required internships with local, regional and international theatre companies and other arts organizations. Likewise, Creative Arts in Therapy students are required to complete a field experience under the supervision of a practicing creative arts therapist. The Creative Arts in Therapy major also links to the accelerated master's degree in Occupational Therapy, and makes it possible for eligible students to complete a bachelor's degree and graduate degree in less time than it would take to pursue the degrees individually.
Learn more about a Creative & Performing Arts degree from Sage, including audition and portfolio requirements:
Undergraduate Programs
Creative Arts in Therapy (BS)
Musical Theatre (BS)
Theatre (BA)