B.S. in Creative Arts in Therapy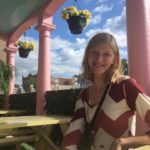 As a Creative Arts in Therapy major and Dance minor, Kaylee Dalaba '17 worked with dementia patients at a senior living facility, worked at a home for troubled teens and interned at a hospital. She saw the challenges, and she saw how movement can be an effective therapeutic tool in helping people overcome challenges. Read more about Kaylee's experience at Sage, and what she is doing now.
Creative Arts in Therapy is a multi-disciplinary field which integrates many areas of study, including Psychology and the Arts. Students of Creative Arts in Therapy are trained to help people find and maintain their own mind/body solutions. They work with individuals, groups and families to facilitate creative growth.
The Bachelor of Science in Creative Arts in Therapy degree at The Sage Colleges offers concentrations in Visual Art, Dance, Music, and Theatre. Art Therapy is designated as a mind-body approach by the National Institute of Health.
The Mission and Purpose of the Creative Arts in Therapy Program is:
To provide the educational opportunities for students to develop professional skills with which they may assist others in the pursuit of wellness through creative means;
To contribute to the larger society a highly educated group of creative and empathic individuals dedicated to contributing to local and global wellness;
To promote a life style which includes ongoing learning, wellness, and contribution to community
Strong preparation for graduate school and employment
Creative Arts in Therapy students enjoy an unusual amount of hands-on experience especially in practicum courses and the senior integrated experience. This prepares them for further study in art education, social work, counseling, psychology, occupational therapy, and many other fields, as well as art therapy, music therapy, dance therapy and drama therapy. According to student surveys completed three months post-graduation, students have been employed or accepted to graduate school at a consistently high rate.
Learning Outcomes
Students who successfully complete the Creative Arts in Therapy major will be able to:
Demonstrate understanding of Creative Arts In Therapy theory and approaches
Establish appropriate Creative Arts In Therapy goals (group and individual)
Engage different configurations, populations and age groups of clients with Creative Arts In Therapy interventions
Demonstrate a growing familiarity with interviewing skills
Communicate effectively in writing:  write in an integrated, concise and articulate manner in both professional clinical writing and research writing
Demonstrate facility in their art form
Be prepared for graduate school and employment
Portfolio/Audition Requirements
For Creative Arts in Therapy (Music, Dance, Visual Art or Theatre Concentration)
Prospective students interested in a visual arts concentration must submit a portfolio for review. Prospective students who are interested in a music, dance or theatre concentration are required to audition for these programs. Prospective students are encouraged to come to campus for a live audition / portfolio review with faculty from the appropriate program. The portfolio / audition must be completed before a student may be considered for admission into this program.
Requirements include:
Visual Arts Concentration:
Contact: Leigh Davie, 518-244-2437 or [email protected]
The portfolio should reflect the breadth and depth of your artistic experience demonstrating your facility in multiple mediums and your particular areas of interest. (10 – 15 pieces)
Suggestions for inclusion:
Drawings: pencil, charcoal, ink, mixed media –( from life rather than photos if possible)
Paintings: acrylic, oil, watercolor, mixed media
Two dimensional design: graphic art, interior design, etc.
Photography: black and white and/or color may also be included.
Three dimensional design: sculpture, ceramics
Please include:
Self-portrait – any medium
Personal Presentation of the portfolio is preferred. CDs of your work are required. Please include the following information: Title, Medium, Size, Brief Description.
Music Concentration:
Contact: Michael Musial, 518-244-4502 or [email protected]
One prepared classical piece of a student's own choice, showing musicality and appropriate technical achievement (memorization is not required).
2. A brief evaluation of tonal and rhythmic acuity.
*Keyboard familiarity provides an extremely valuable basis for music study. Applicants are strongly urged to acquire basic piano ability and, if possible, to demonstrate that ability at the entrance audition.
Dance Concentration:  
Contact: Ellen Sinopoli, [email protected]
Participation in an on campus technique class or a videotape of technique class presently attending.
Theatre Concentration:
Contact: Michael Musial, 518-244-4502 or [email protected]
Two contrasting two minute monologues of your choice.
Program Requirements
Please refer to the current course catalog for the complete program requirements.
Alumni Testimonial
OT is going great so far, and I am loving the application of creative thinking to the human body! I have been amazed how much cross over there is between the Creative Arts in Therapy and the OT program, especially in Barbara's classes! I feel very well prepared and I honestly think that a CAT major is the absolute BEST undergraduate preparation for OT. People always told me that CAT into OT was an excellent choice, and I always agreed, but now that I am experiencing it first-hand I am realizing it was more helpful than I could even have imagined. – Christa Kearsey '14
Articulation Agreements
Sage has developed partnership agreements with several 2-year colleges to guarantee admission to the Creative Arts in Therapy Program for qualified students. Russell Sage College has articulation agreements with:
Clinton County Community College – Humanities & Social Sciences
Sullivan County Community College – Human Services (Track I)
Sullivan County Community College – Human Services (Track II)