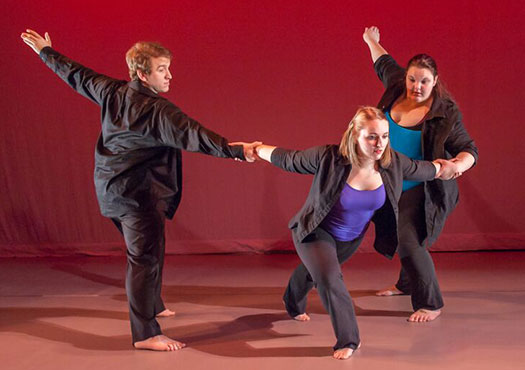 Dance at Russell Sage College
The minor in Dance at Russell Sage College is intended to provide a foundation in the theory and practice of a student's chosen art form.
The Dance minor offers an opportunity to become competent in creating art, familiar with a variety of techniques, and knowledgeable about the history and theory of your chosen art form.
The dance minor is compatible with any liberal arts major and may enhance employment or postgraduate educational opportunities in fields requiring a background in performing arts.
Annual dance performances include a fall faculty/student concert and a spring student-produced Dance Ensemble concert.
Dance Ensemble
The Dance Ensemble at Russell Sage College is a student run club for those who love to dance. It is an opportunity for students with some dance experience to continue dancing and for those who are new to dance to join in on the fun.
Dance Ensemble plays a role in keeping the creative arts alive on campus while expanding the diversity of programs provided.  There is one production in the spring each year that is draws many people to the performances while offering a wonderful experience for those participating.
Courses
Studio Courses
Introduction to Jazz Dance (DAN 241)
Studio Jazz (DAN 320)
Introduction to Ballet (DAN 231/232)
Studio Ballet (DAN 326)
Introduction to Modern Dance (DAN111/112)
Studio Modern (DAN 250)
Introduction to Tap (DAN 235)
Choreography (DAN 425 )
Composition (DAN 316)
Improvisation (DAN 320)
Performance Repertory (DAN 404)
Senior/Honors Projects (DAN 405/410)
Special Topics/African Dance (DAN 248)
Lecture Courses
Dance Medicine (DAN 213)
History of 20th & 21st Century Dance (DAN 212)
Faculty
Ellen Sinopoli
Director of Dance Programming
[email protected]
B.A. Dance, Adelphi University;
M.L.S., CUNY City College of New York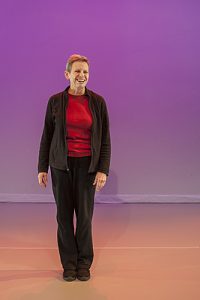 Ellen Sinopoli founded the Ellen Sinopoli Dance Company (ESDC) in 1991, after settling in the Capital Region from Boston and NYC. ESDC's 2016-2017 performance season marks the company's 25th year as the resident company at The Egg Center for the Performing Arts in Albany NY. ESDC's concert dance performances can be seen at professional, regional and college theatres in New York City, Massachusetts and throughout upstate NY. As Artistic Director of ESDC, Ellen Sinopoli's commitment to "create, collaborate, educate and partner" remains in the forefront as her company shares its work with diverse audiences through concerts, showcases, residencies, workshops, educational and community outreach.
Over the past quarter century, Ellen Sinopoli has choreographed 75 new works and her many artistic collaborations and projects serve as a conduit to bring together talented artists (both regional and national) from varied genres that include visual artists, sculptors, architects, composers and musicians, poets and storytellers, videographers, photographers and physicists. ESDC's outreach programming continues to expand as Ellen Sinopoli brings her work to community centers, day care centers, public playgrounds, libraries, art galleries and centers for special populations. Her company has received choreographic commissions from The Arts Center of the Capital Region The Egg, Olana Partnership, St. Cecilia Orchestra, Saratoga City Ballet, The Arts Center, Schenectady Museum, Schenectady Symphony Orchestra, UAlbany and Union College.
Beyond her role as Artistic Director and choreographer, Ellen Sinopoli is also noted for her talents as a master teacher and for her efforts to educate young people about dance. She is Coordinator of Dance Programming at Russell Sage College. She has taught at Siena College, Skidmore College, Union College, Albany Berkshire Ballet, Saratoga City Ballet and Guilderland Ballet, among others.
Ellen Sinopoli  was featured in the Times Union's [email protected] July/August 2016 issue "13 Women in the Arts".  She has appeared on "Schenectady Today" and WMHT's Local Artist interviews for PBS' Fall Arts Festival, WMHT's "Our Town Troy" and WAMC's Roundtable.was one of the 100 "Women of Excellence" honored by the Albany-Colonie Regional Chamber of Commerce in 2000. She also was a recipient of the 2000 Arts Awards from the Albany/Schenectady League of Arts in the Capital Region of New York State. In 2002, she received the "Educator of Excellence" award from WTEN, an affiliate of ABC. She has appeared on "Schenectady Today" and WMHT's Local Artist interviews for PBS' Fall Arts Festival, WMHT's "Our Town Troy" and WAMC's Roundtable.
Tina Fretto Baird
Adjunct Faculty
[email protected]
B.A., University at Albany in Theatre Acting/Directing
Skidmore College Cross Registration Program – Dance & Dance History
As a Jazz Tap Artist was a protégé of Brenda Bufalino and was mentored by Brenda Bufalino, Barbara Duffy & Katherine Kramer. She is the owner of Saratoga Jazz Tap where she provides private and small.  She has performed with the Albany Symphony Orchestra, the Alex Torres Orchestra; at Jacob's Pillow Inside/Out and at clubs in NYC.  Other presentations include: 2015 Saratoga ArtsFest First Fridays "A Vaudeville Circus"; 2013 National Tap Dance Day Festival with Brenda Bufalino; 2013 National Museum of Dance Black History Month Celebration; 2003-2012 Saratoga Springs High School Musicals (choreographer with director Bob Berenis); 2011 Stoptime: Louis Armstrong Celebration; 2009 Rhythm Revue (producer, director, choreographer, performer); 2006 & 2007 Rhythm-N-Shoes, National Tap Dance Day Festival (producer, director, performer);  2005 Happy Birthday Bojangles, National Tap Dance Day Concert (producer, director, performer).
Tina has taught at taught jazz, hip hop & tap at numerous dance studios throughout the Capital Region and in NJ, VT & MA. She has also taught at Skidmore College and the Emma Willard School.
Etta C. Fink
Adjunct Faculty
[email protected]
B.F.A. (Cum Laude) in Musical Theatre & Dance, Point Park University, Pittsburgh
Advanced Certification in the Expressive Arts (Therapy, Education and Consulting) – Glass Lake Studio (NY Expressive Arts)
Additional Graduate studies in the Expressive Arts – The European Graduate School (EGS, Switzerland)
As a professional dancer, choreographer, performing artist, and arts educator, Etta has trained in jazz, musical theatre/Broadway, ballet, tap, modern, contemporary, folk, and creative/expressive movement. She began dancing at the age of three, and was student teaching by age 13, while studying & dancing with the North Jersey Regional Dance Co. Her performance and choreography career has taken her from Manhattan to LA, through much of the United States, and overseas, with companies including Scandinavian World Cruises, Opryland U.S.A., Herco Inc., Cedar Point, Inc. and the American Musical Theatre Festival. While living in the Capital Region, Etta has performed, choreographed and taught with companies including the NYS Theatre Institute (former teaching artist in the resident company) Cohoes Music Hall, Proctors Theatre, Park Playhouse, eba Dance Theatre, Komotion Movement Theatre, Capital Region Center for Arts in Education, The NY State Museum and The Arts Center of the Capital Region. Musical choreography accomplishments include "Pippin", "Godspell", "The Fantasticks", serving as assistant to Patricia Birch for NYSTI's "The Snow Queen" and as co-choreographer with Adrienne Posner for NYSTI's original production, "A Tale of Cinderella".
While living and dancing in NYC, Etta also began teaching health and fitness – training and working with Fitness Industry pioneer, Gilda Marx. As an Expressive Arts and Wellness Practitioner, Etta continues to integrate that work along with her dance teaching, specializing in body-centered and expressive movement for wellness, fitness and self-care. Drawing upon extensive training and additional certifications in holistic modalities (energy work, breath and sound, yogic and meditation techniques) Etta develops her own programs, serves as a consultant for local agencies, hospitals, businesses and organizations, teaches regularly at Albany Dance and Fitness, and sees clients privately in her Latham office.
Laura Teeter
Adjunct Faculty
[email protected]
B.F.A. in Dance Performance, The Boston Conservatory
Laura is an active Capital Region-based performing artist, dance teacher, and choreographer. She joined the Ellen Sinopoli Dance Company (ESDC) in 2004. She performs regularly with ESDC, is a teaching artist in its Arts-in-Education Program, and serves as the Assistant to the Artistic Director. She has been on the dance faculty of Russell Sage since the Fall 2012, and the dance faculty of Siena College since Spring 2014.