Applied Behavior Analysis & Autism (M.S.) at the Esteves School of Education
The M.S. in Applied Behavior Analysis & Autism (34 credits) prepares students without a master's degree in a related area to work with people diagnosed with autism. When combined with optional practicum experiences (42 credits), this program meets eligibility requirements for the Behavior Analyst Certification Board exam.
Coursework for this program is presented entirely online, allowing students to:
Complete their program in as little as two years
Engage with professionals from around the world in dynamic discussions
Receive the same level of personal attention that is customary of Sage's small, interactive classes and experienced faculty
Students are given the option to apply learned principles and fulfill Board Certified Behavior Analyst (BCBA) practicum requirements in clinical settings, under the dual supervision of an on-site BCBA supervisor or via distance supervision (e.g. webcam), and course professor.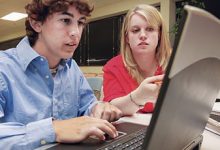 Learn more about ABA programs at the Esteves School of Education
More