Advanced Certificate (CAS)+ at the Esteves School of Education
Are you interested in becoming a BCBA (Board Certified Behavior Analyst)?  Do you want to learn effective strategies that will make a difference to children and adults who can benefit from behavior analysis?  Then the Sage Graduate Schools' Certificate in Applied Behavior Analysis is for you.
Applied Behavior Analysis (ABA) is the only effective treatment of autism.  With the rise in incidence of autism, and the many challenges faced by these individuals and their families, there is a crucial need for well-trained, competent professionals in the field of ABA.  The Sage Colleges' Center for Applied Behavior Analysis offers a Certificate program appropriate for professionals who wish to further their education in ABA, and to sit for the Board Certification exam in behavior analysis.  The Certificate program is appropriate for a professional who already possesses a Master's degree (or higher) in a related field, such as education, speech pathology, or psychology.
The Certificate program provides students with the necessary coursework and practicum experience needed to take the certification exam to become a Board Certified Behavior Analyst (BCBA).  The six required courses are presented in an entirely on-line format, which allows for multi-media, interactive presentation of material.  Students are actively engaged in their learning process, and can participate in the program from anywhere in the world, on their own time.  Each student receives a highly personalized interactive experience with his/her professors, as well as the opportunity to interact with other students from many different geographic areas.
Within the optional practicum course sequence, students apply the principles of ABA with real clients, under the dual supervision of their on-site supervisor and their course professor.  Sage's CABA programs are unique among other university-level programs in that they provide for all preparation and requirements for students to take the BCBA exam, rather than just providing academic coursework.  If students do not have local BCBA professionals available to supervise them, Sage will assist in finding a professional, or will help students to obtain distance supervision.
Applied Behavior Analysis is not only a treatment for autism, but also an effective framework for teaching in general.  Our professors and adjuncts are all behavior analysts who recognize the power of technology to teach students at every level.  Our programs are broadly focused on training professionals in the best, evidence-based practices, while individualizing each students' educational experience to maximize his/her experience of the program.
Your studies will combine two tracks, plus optional supervised practice.  You will thoroughly study Applied Behavior Analysis, both the conceptual underpinnings as well as the skills necessary to effect behavioral change.  You will learn strategies for defining and assessing behaviors, development of instructional goals that are measurable, antecedent strategies to promote learning, use of consequences to effect positive change, and rules for determining success and mastery.  You will learn the procedures and strategies for dealing with language development, abnormal behavioral patterns, and socialization issues.  If you choose to complete the practicum coursework, your application of these skills will be evaluated in clinical settings where you will be working with persons with autism and other disorders.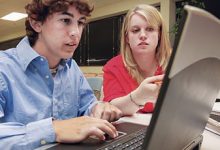 Are you interested in working with people diagnosed with autism?
More