B.S. at Russell Sage College
By becoming a teacher you will have the opportunity to touch, and perhaps change, the lives of young people and give them a legacy of learning to last their lifetimes.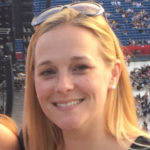 Kristin Crouch '04 teaches fifth grade, and will soon be mentoring Sage students preparing to become teachers. Read how her experience at Sage has inspired her in her career in education.
The undergraduate Bachelor of Science program in Childhood Education along with completion of a liberal arts major prepares students for New York State teacher certification in grades one through six. Students at Russell Sage College and Sage College of Albany will have the opportunity for extensive clinically rich experiences in professional development school settings in junior year methods classes and again during student teaching. Professional Development Schools offer pre-service teachers the opportunity to learn from both the college professor and a coaching teacher.
Download the Program of Study – outline of required education and supporting courses. Any change in stated coursework must receive written approval of the assigned faculty advisor.
Liberal Arts major: students in childhood education studies must complete a liberal arts major in one of the following: English, History, Life Sciences, or Mathematics. See Catalog for major program requirements.
Additional Opportunities
If you maintain 3.0 GPA, you may have the opportunity to earn six graduate credits from the Sage Graduate School. Once you complete your undergraduate degree, you will have the opportunity to continue your studies and complete a Master's Degree in Special Education and/or Literacy.
Students have the option of extending their certification to include Middle Childhood Education in English and History (Social Studies) by engaging in two additional courses and one additional student teaching opportunity. With careful planning of the undergraduate program, students may accelerate their graduate study by beginning graduate coursework in the senior year.