Ed.D. at the Esteves School of Education
School systems across New York State and the nation need highly qualified educational leaders. Race to the Top, a financial crisis, a tax cap, changing student demographics, national core standards, and the internet are creating a convergence of demands unlike those at any other time in recent history. This program focuses on effective system leadership.
If you are working in a leadership role in education and are ready for expanded responsibilities, would benefit from the opportunity to expand your knowledge and skills, or want to immerse yourself in a community of practitioner scholars examining current issues and research, the Doctor of Education (Ed.D.) at the Esteves School of Education at the Sage Graduate Schools is for you.
The program is designed for fully engaged public school leaders, independent school heads, charter school leaders and those with statewide responsibilities in educationally related organizations. The program serves primarily K – 12 leaders from New York and surrounding states in the northeast.
Since 2007, the EDL program has graduated 140 students in ten cohorts. Eighty-one percent (81%) of our students graduated on time and 85% of those who entered the program eventually graduated. The national average completion rates for humanities doctoral program is approximately 50% graduation within ten years.
EDL Overview
National Accreditation Advantage
The Esteves School of Education first received accreditation from the National Council for the Accreditation of Teacher Education (NCATE) in October 2001. NCATE accreditation means that graduates are recognized as having completed an Education program that meets the highest standards in the field. Sage graduates should note the NCATE accreditation on their resumes and be prepared to talk about its significance.
Sage is one of only 45 colleges and universities in New York State to receive prestigious NCATE accreditation. Across the nation, relatively few private colleges can claim this level of excellence in teach education programs. The NCATE accreditation process helped articulate what qualities a Sage educator, counselor, or leader possesses: belief in full inclusion, valuing diversity, reflection, and knowledge about best practices. NCATE accreditation is a mark of assurance that teachers, counselors, and leaders educated at Sage are competent, caring, and highly qualified. NCATE accreditation means that Sage graduates are better prepared to help their students reach high standards. Graduates of NCATE accredited programs can more easily receive certification and teaching jobs in other states; NCATE is recognized throughout the nation.
News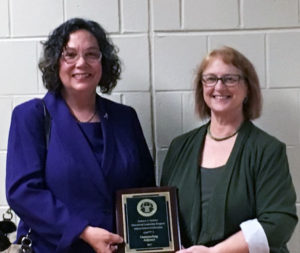 Kathryn Gerbino was named Adjunct of the Year by the Sage Colleges for 2016-17.
Kathryn started with Sage at the onset of the Educational Leadership program as a coach to Cohort 1. She worked as a second reader in year two, then started teaching for the program in its third year. She supports students as a chair, second reader, and instructor for several research courses.
Her educational experience includes 19 years as a teacher and administrator at Shenendehowa Central Schools, 12 years as Chief Program Officer at Parsons Child and Family, Assistant District Superintendent at BOCES for 10 years, Outside Educational Expert for the City of Albany for a year, and Superintendent at Schoharie Central School District for a year following her "retirement."
Kathryn has a BS in Speech Pathology and Audiology, an MS in Special Ed, a CAS in Educational Administration, and PhD in Educational Program Development and Evaluation with a concentration in Evaluation from the State University of Albany.