M.S. in School Health Education
The Master of Science program in School Health Education at the Esteves School of Education at The Sage Colleges is designed to prepare health teachers for initial or professional certification in accordance with New York State Education Department regulations. This master's degree prepares health educators for certification across grade levels K – 12.
Programs of Study
Admission Requirements
Applicants for admission to the program must meet the general admission requirements for Sage Graduate School and must also meet the following specific requirements:
Have a minimum cumulative GPA of 3.0
Hold a bachelor's degree in a liberal arts or science area
Applicants may or may not have Initial Certification through the NYS Office of Teaching Initiatives highered.nysed.gov/tcert/ If accepted into the program without Initial Certification, candidate must use the 36 credit Program of Study.
Provide scores from one of the following:

edTPA
CST
MAT* (Miller Analogies Test)
GRE** (Graduate Record Exam)
or equivalent
*MAT Minimum Score – 350:  **GRE Minimum Score – Verbal Reasoning-145, Quantitative Reasoning-145, Analytical Writing-3.5
Exemption – Pursuant to the law, each program is entitled to exempt a student from these admission requirements based on the exempted student's demonstrated potential to positively contribute to the teaching profession.
Application Requirements
Official transcripts from all post-secondary institutions attended
One letter of recommendation
A 1-2 page career goals essay
Scores from one of the following:, GRE (Graduate Record Exam), MAT (Miller Analogies Test), edTPA, CST or equivalent
In the News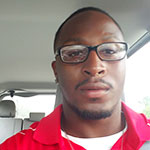 ZaQuan Irby, a student in both the undergraduate Physical Education Teacher Education program and the Master of Science program in School Health Education, was featured by Time Warner Cable News – Albany as a future leader in the community. ZaQuan is a dedicated student, father, and professional, working towards degree completion at both the undergraduate and graduate levels.