Sage's Law & Public Policy programs include bachelor's and master's degrees that prepare students for leadership roles in government organizations, non-profit agencies and corporations, as well as for graduate study in law, public health and health care administration, business and other disciplines.
Faculty members in Sage's Law & Public Policy programs are distinguished researchers, published authors, Fulbright scholars, business and government professionals and community leaders. More importantly, they love to teach and share their enthusiasm for their subjects with Sage students.
Most Law & Public Policy programs are interdisciplinary – students complement the core courses in their specific major with electives in a variety of subjects. Many Law & Public Policy programs encourage students to select an area to specialize in, based upon their interests and goals (For example, a Law & Society major may select a Criminal Justice, Legal Studies, Psychology or Sociology pathway.)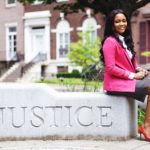 Kim Wallace '10 said she did even better in law school than she did at Sage, thanks to the great preparation she had. Read Kim Wallace's Sage Spotlight.
Students in every discipline regularly conduct research, present at conferences including the prestigious National Conference on Undergraduate Research and have their work published. Internships, work-study placements and service-learning projects combine education, professional networking and community involvement.
A number of Law & Public Policy programs link to Sage's 3 + 3 programs with Albany Law School and Suffolk University Law School and make it possible for eligible students to complete a bachelor's degree and law degree in less time than it would take to pursue the degrees individually.
Learn more about a Law & Public Policy degree from Sage:
Undergraduate Programs
Law & Society (BS)
Pre-Law Studies (Pre-Professional)
Public Health (BS)
Graduate Programs
Forensic Mental Health (MS, Advanced Certificate)
Law: Accelerated BA / JD Program (BA, JD)