Pre-Professional Programs at Russell Sage College and Sage College of Albany
Each year, well-regarded law schools accept able Russell Sage graduates. Recent Sage students have attended Albany Law School, Syracuse Law School, and Vermont Law School, among others.  Undergraduate study at Sage fosters students' special interest in law and the courts, and provides a sound foundation in the liberal arts. Some of the aspects of Pre-Law studies at Russell Sage College are listed below.
Accelerated B.A./J.D. Program with Albany Law School and Suffolk University Law School
There are two accelerated, 3+3 law programs available at The Sage Colleges: Sage and Albany Law School in Albany, NY and Sage and Suffolk University Law School in Boston, MA have partnered to offer a 3+3 Accelerated Law School programs for entering first year students and rising sophomore students who meet certain requirements .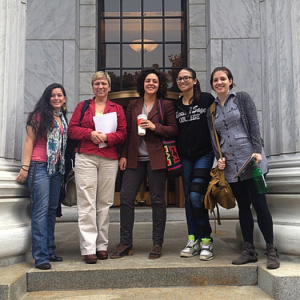 The 3+3 program allows students to save one year of college tuition by having them complete their senior year of college and their first year of law school simultaneously.   Selected students start at Albany or Suffolk University Law School after their junior year at Sage. They receive a Bachelor's degree from Russell Sage at the end of their first year at law school. These accelerated programs have the advantage of permitting students to take a regular course load throughout their college and law school years, but still save one year of time and tuition.  Plus, qualified students who enroll the program are not required to remain in it:  they are free to continue at Sage for their senior year to earn their BA degree.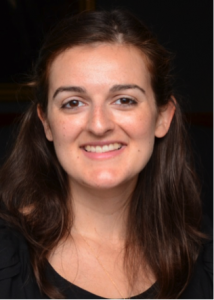 EMILY EKLAND, RSC Class of 2009
Emily graduated from RSC with a double degree in Political Science and History.  She went on to Albany Law School and, after graduation, became a staff attorney of the Government Law Center there.  She was recently profiled in the law school's Staff Spotlight.
Environmental Law and Policy Opportunity
Vermont Law School (VLS), has been ranked number one in the nation for environmental law by US News and World Report.  Sage students with an interest in environmental law and activism, as well as other areas of law, now have special benefits when applying there to pursue a law and/or master degree.
Minor in Pre-Law Studies
The 18-credit minor in Pre-Law Studies can be completed by students in almost any major. It is recommended for all students interested in going to law school after graduating from Russell Sage. It would also be helpful for students who are interested in a law-related career after college, such as jobs in government or in the courts.
The American Bar Associations (ABA) Section of Legal Education and Admissions to the Bar's statement on preparation for legal education has guided the formulation of this minor. According to the ABA, no specific major is or should be required for admission to law schools in the United States. However, undergraduate coursework is recommended that develops skills that can help students prepare for the Law School Admissions Test (LSAT) and that builds a skills and knowledge base that can help students once they reach law school.
The skills referred to by the ABA include: analysis and problem solving; critical reading; writing; oral communication; listening; and, legal research. The knowledge base includes: contemporary political systems; history, political theory; ethics and theories of justice; economics; and, human behavior.
Pre-Law Coursework (By Advisement)
Each semester, Pre-Law students at Russell Sage are offered courses in business, communications, criminal justice, economics, English, history, PACE, philosophy, political science, and sociology, among others, to build that skill and knowledge in a broad-based undergraduate program.
Advisement
Students interested in law and government have many career options. Russell Sage's Pre-Law Advisor is available to talk with students and prospective students about law schools and law careers. Pre-Law students at Russell Sage are encouraged to do law-related internships  to help them narrow their focus and make contacts in the community. Law students and lawyers visit the campus during the year to talk with students about attending law school and working in business, the legislature, and a variety of other settings. Albany Law School welcomes student visitors to their classes, by appointment.
Once a student decides that she is interested attending law school, there is a great deal of planning and preparation. Registration and preparation for the LSAT; determining where to apply to law school; applying to law school; selecting a school to attend; and more. The Pre-Law Advisor assists students along the way, helping to direct them to LSAT preparation materials and law schools that are right for them. Orientation programs for Pre-Law students are supplemented by individual advisement.
Pre-Law Club
There is an active Pre-Law Club on campus where students sharing common goals and aspirations come together. Some past activities of the club include trips to Law School Admissions Council Law School Forums in Boston and New York City, visits to Washington, D.C.  and on-campus speakers from Law School Admissions Test preparation centers, alumnae in law school and in practice, and much more.  Community service, movie nights and fund raising events are also part of our regular roster of activities.