B.S. in Psychology at Russell Sage College and Sage College of Albany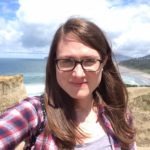 "Sage is the place where I grew in confidence. It's where I was prepared to succeed at a research university's Ph.D. program. It was a critical launching point in my life. It shaped so much of what I do." – Pyschology graduate Julie Cunningham '08. Read how Sage helped Julie reach her career goals.
Psychology is a scientific discipline that pushes us to ask questions about every sort of behavior – behaviors we can observe directly and those for which we need specialized instruments and techniques.
In the Bachelor of Science program, you will learn about what psychologists have hypothesized about behavior, the methods they have designed, and the conclusions they have drawn. You will also study critiques of psychological findings and the missteps psychologists have taken.
In your classes you will be challenged to question psychological findings – to think of counter hypotheses and to design experiments to check the conclusions drawn. Whether you are studying choice behavior in adolescent girls, in stock traders or in mice you will be participating in the search for psychological principles and their applications.
B.S. at Sage Professional & Continuing Education
Sage offers adult working students the only evening program in psychology within the Capital Region.
Most students who apply to the Bachelor of Science program in Psychology School of Professional & Continuing Education  will have completed core and introductory level courses which are captured as transfer credits. The program builds on these fundamental requirements.
The Psychology program at SPCE offers theoretical and applied courses geared to the understanding of human behavior. The program is designed to enhance analytical reasoning and critical thinking skills necessary for the work world or for entry into graduate study.