B.S. in Public Health at Russell Sage College and Sage College of Albany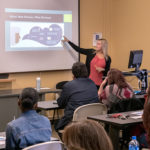 "Small classes allowed me to build relationships with professors who were mentors outside of class. When I needed references, there were multiple people I could ask, who would be able to write a solid reference for me. The school has everything to help you succeed." — Public Health grad Sofia D'Agostino '19. Read about the internship that led to a job offer and consulting opportunities for Sofia D'Agostino.
If you are interested in health, interpersonal relationships, the environment, disparities, social justice, or public policy then the Bachelor of Science degree program in Public Health is for you. Public Health is everything that impacts the health of you, your community, and your environment. No matter who you are or what you do, you interact with, and are impacted by public health.
The Public Health program at Sage is for students who are looking to use their education to improve population health and the environment in which we live. The Bachelor of Science in Public Health exposes students to the multitude of factors that influence health and health behaviors. The interactions between humans and between humans and the environment are explored and ways to improve health discussed. Students use critical thinking and analytical skills integrating their learning over the course of their academic program.
Curriculum
Reflecting an interdisciplinary approach, students are required to take courses covering material from the various public health core disciplines (epidemiology; social behavior and community health; health policy; biological and environmental science; and statistics) supplemented by multiple options from related disciplines.
The program combines academic study with experiential learning opportunities to help the student make the transition from college to the workforce. Each student in the public health program completes a core curriculum comprised of cross-disciplinary courses, takes additional courses related to their track and has a culminating experience which allows them to apply the knowledge and skills they have gained to real-world situations and problems. All students are required to take the core courses; these courses will provide students with an overview of the core disciplines of public health. Students select, based upon their interests and future goals, a public health track in which to focus. The tracks provide students with more information about the subject area and facilitate preparation for graduate study and employment.
Public Health Careers
The Association of Schools of Public Health estimates that by 2020 there will be a need for 250,000 additional public health workers (Arnold and Schneider, 2010), providing many opportunities for new graduates from public health programs.
Students graduating with a degree in public health are eligible for several Centers for Disease Control and Prevention (CDC) internships and fellowships in addition to a CDC sponsored two-year paid training program where individuals are assigned to public health agencies and non-governmental organizations (NGOs) across the country.
Graduates can fill entry-level positions in state and local health departments where they can perform biological or environmental testing, participate in health education projects, and serve as program coordinators. Undergraduate public health education also enables graduates to work in community-based organizations that are involved in promoting health (e.g., YMCA, Planned Parenthood, Boys/Girls Clubs). If a student wishes, the bachelors in public health degree provides a solid foundation for further study in a training program such as the CDC's Public Health Associates Program, a Master of Public Health (MPH) program, or other graduate degree program.
There are many different jobs in public health and public health crosses all sorts of fields. Some examples of the many fields of public health include :
First responders – police/fire/medical
Restaurant inspectors
Health educators – those individuals that teach others how to be healthy
Scientists and researchers
Nutritionists
Community planners – the physical structure of a community greatly influences health
Social workers
Epidemiologists – persons who study the occurrence and transmission of disease in a population
Public health physicians
Public health nurses
Occupational health and safety professionals
Public policymakers
Sanitarians