B.A. at Russell Sage College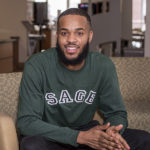 Sociology grad John Johnson '19 said Sage helped him become the best version of himself. That includes achieving an impressive GPA, getting involved in campus leadership, and interning at the New York State Education Department. Now he's on his way to a competitive graduate program. Read about John Johnson's Sage experience.
Sociology is the study of social groups. It is concerned with the way groups are organized, how they function, how they change, and the way in which they influence human behavior. Groups may vary in size and complexity from two people to entire societies.
Students studying sociology will develop an understanding of social life, social interactions, social institutions, social policies, and social change.  They will approach these topics from a variety of theoretical perspectives and both quantitative and qualitative methods.
The curriculum for the Bachelor of Arts degree in Sociology at Russell Sage College is designed to give students maximum exposure to the breadth of the field. The Sociology program offers students three pathways of study. Students may major in Sociology with a general sociology pathway, a pathway in Crime & Justice, or a pathway in Public Health.
All students majoring in Sociology take six core courses:
SOC 101: Introduction to Sociology
PSY 207: Statistics with Computer Applications
SOC 303: Sociological Theory
SOC 337: Research Methods for Sociology
SOC 403: Senior Seminar
SOC 427: Internship
Additional required courses and suggested electives will depend upon the pathway the student chooses.