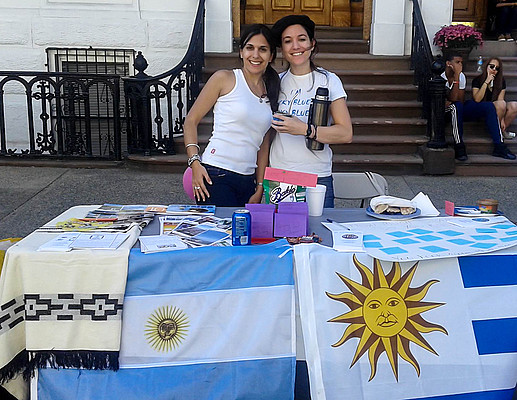 The rapidly growing number of Spanish-speaking residents of the United States makes becoming bilingual in Spanish an enormous career advantage for people in a wide range of fields. The US Census Office estimates that the U.S. will have 138 million Spanish speakers by 2050. Spanish, a living language, has 559 million speakers worldwide.
Students majoring in Education, International Studies, Health and Rehabilitation Sciences, Criminal Justice, Business, and those planning on graduate study in Business, Law, Medicine, or Education would all do well to consider a minor in Spanish. Únete a nosotros!
Those who wish to practice Spanish on a daily basis have the option of living on-campus in Spanish House (La Casa Hispánica), a place to practice, improve and/or better understand both Spanish language and culture. Students also have the opportunity of participating in an array of study abroad opportunities in Spanish-speaking countries.
Russell Sage College Spanish minors develop skills in communication, human relations, research and problem solving, and education and instruction. Read about all the goings-on in English and Modern Languages in our bi-annual newsletter, Carriage House Notes.
Full-Time Faculty
Ekaterina Kagan, Associate Professor of Spanish, Modern Languages Program Coordinator
Program Goals
The Spanish Program is designed to:
achieve an intermediate/advanced level in Spanish in all four skills areas (listening, reading, writing, and speaking) in order to enhance competency to communicate effectively and creatively
foster critical thinking and an understanding of the cultural and linguistic diversities among the Hispanic communities
develop knowledge of different literary texts and key aspects of Hispanic literature and cultures, including major writers and movements
promote integration between Spanish and other disciplines related to the students' main fields of study in their undergraduate/graduate programs
Learning Outcomes
Students who successfully complete the program will be able to:
demonstrate language competence in the productive and receptive skills of the Spanish language appropriate to the level studied, consistent with National Standards for Foreign Language Education
recognize the similarities and differences within the varied Spanish speaking countries, and reflect upon how social, political, economic, historical and linguistic factors influence the language and the culture
interpret and analyze a wide range of literary works; distinguish the principal stylistic devices and their functions within a text; identify  influential writers and movements and recognize their impact within specific historical and cultural contexts
use the Spanish language to communicate efficiently in a variety of interdisciplinary contexts and in real-life situations
Spanish Minor Requirements
Students must take six courses (18 credits) by selecting courses from the Minor in Spanish Course List;
SPA 202 (Intermediate Spanish II);
Choose either SPA 211 (Intermediate Advanced Spanish) or SPA 301 (Advanced Spanish Conversation);
Complete one Spanish culture and civilization course;
Complete three elective courses.