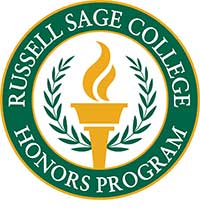 The Russell Sage College Honors Program offers highly-motivated students an innovative, rigorous, and participatory educational experience. The program challenges women to be engaged contributors and leaders within the academic community. A member of the National Collegiate Honors Council, the RSC Honors Program is designed to:
Enrich any course of study at Sage.
Deliver Honors coursework in a variety of pedagogical modes to foster intellectual and creative risk-taking, the examination of diverse knowledge, and trans-disciplinary approaches to problem-solving and research.
Provide Honors-related academic advising from the Honors director, faculty, and Associate Dean of Academic Advising.
Promote women's engaged scholarship and leadership on local and global levels through conference participation, service-learning, and study abroad.
Deepen the intellectual community at RSC through Honors-sponsored lectures, colloquia, and other events.
Apply Now

Benefits
Honors students receive priority enrollment in Honors Seminars. Non-Honors students who wish to enroll in an Honors course must carry a minimum G.P.A. of 3.0 and with the permission of the Honors Director.
Students receive a customized Honors sash for graduation.
In recognition of our institution's founder and her commitment to the advancement of women's education, Honors graduates receive the following distinction on their transcripts: "Margaret Olivia Slocum Sage Scholar."
Requirements
15 credits of Honors Coursework / 12 credits for transfer students. Honors coursework includes Founder's Seminar, Honors Seminars, Oxford-Style Tutorials, study abroad, or program-based Honors projects. Students are highly encouraged to take additional Honors coursework to enhance their Honors experience.
Presentation of research or creative work at a regional, national, or international conference or appropriate community venue.
Demonstration of "engaged scholarship" through participation, leadership, and service. Can include active participation and leadership in Honors Societies, student governance, service-learning, and events that promote the cultural and intellectual enrichment of the local community.
Maintain a cumulative G.P.A. of 3.4.
Honors Seminar Courses: Spring 2017
ENG 250: Women's Literature
The unavoidable question, as put to early 20th century woman traveler Neill James, is: "Can a girl adventure without becoming an adventuress?" In both writing and moving through space a woman subjects herself to public scrutiny and necessarily transgresses the norms of gender ideology. We will focus on writing published in English during the 19th and 20th centuries, considering the ways that cultural differences, the material realities of history, and writers' individual locations within cultures shape representations of travel, mobility, and identity. Authors include Jamaica Kinkaid, Linda Hogan, Chimananda Ngozi Adichie, Elizabeth Gilbert, Cheryl Strayed, Nella Larsen, Isabella Bird, and Isabella Eberhardt. Presentations, as well as short creative and critical writing projects, such as the creation of maps, first-person travel narratives, literary analyses, tourism materials, and a mix of other genres will be assigned.
Mondays and Thursdays, 11:00 am – 12:20 pm with Prof. Shealeen Meaney

BIO 248: Plants: The Placid and the Pernicious
This course surveys the plant kingdom, with emphasis on structure and function as they relate to habitat, reproduction, evolution, and plant-human interaction. Throughout the course, students should gain an appreciation of plants as diverse and complex organisms that are integral to ecosystems and specifically, to human lives. Format: lecture, laboratory, discussion, oral presentations, critical analysis of current literature, and small group research project. Prerequisite: at least one college-level course in biology or chemistry, or permission of instructor.
Wednesdays, 9:30 am – 12:20 pm with Prof. Anne Rea

COM/POL 248: Politics in Film & Lit
Literature and film bring political themes to life. They explore themes—of honor vs. duty, civic heroism and the pursuit of justice, the folly of pride and the corruption of power, the individual vs. the state—that are timeless yet intimate. Literature and film invite us to suspend belief and exercise our imagination. They also pull us in two opposite directions – escape and engagement.
In this course, we will explore these themes in pairs of great literary and cinemagraphic works such as Antigone and Hunger Games, Casablanca and Mr. Smith Goes to Washington, Citizen Kane and All the King's Men, Animal Farm and Lord of the Flies, and selections from the novels of George Eliot and Anthony Trollope.
Mondays and Thursdays, 4:00 – 5:20 pm with Prof. Stephen Schechter

HST 238: History of Medicine and Healthcare
"If you don't have your health, you don't have anything" Prince Humperdinck is told in the film The Princess Bride and few over the eons of human existence would be likely to disagree. Sadly though the evolution of humanity's efforts to provide the skills and services necessary to address the many medical problems that ever so frequently plague people has more often than not lead to a deadly mix  of accomplishment, horrific malpractice, and at times raw torture.
Our course on the evolution of medicine and the healing arts will offer a broad survey of how communities across the planet, from ancient China to the medieval Middle East, from the Greco-Roman Era to Early Modern Europe, and eventually the contemporary world, have attempted to address the challenge of health care.
Mondays and Thursdays, 8:00 – 9:20 am with Prof. Steven Leibo
Oxford-Style Tutorials: Spring 2017
ENG 348: Jung at Heart: Archetypal Storytelling and the Collective Unconscious
The great Swiss intellectual Carl Jung (1871-1961) wrote, "It is an almost ridiculous prejudice to assume that existence can only be physical."
This Oxford Style Tutorial examines Jungian archetypal theory, central not only to understanding Jungian thought but also widely applicable in the worlds of literature, philosophy, religion, and cultural criticism.  This tutorial will involve close study of Jung's seminar work, Archetypes and the Collective Unconscious as well as many of Jung's other important essays, particularly those related to the goddess and the strength of the feminine ideal. Students will apply Jung's ideas to a variety of texts, including literary, film, music, and others. Jung's theories greatly influenced Joseph Campbell whose A Hero with a Thousand Faces is the chief source for George Lucas' Star Wars saga. No prior experience with Jung is necessary.
Wednesdays, 8:30 – 10:50 am with Professor David Salomon

THR 348-01: The Season: A Candid Look at Broadway

In 1967, playwright William Goldman did exhaustive research into every play and musical opening in that theatre season. The result was The Season, a now-celebrated text that exposed every nook and cranny of the Broadway theatre, from the agents, actors and directors, to the union bosses, ushers and landlords. This course will explore Goldman's historic text as a lens for contemporary Broadway, using resources of the New York Times, Playbill, and the American Theater Wing to examine audiences and artists past and present to determine if indeed, "the more things change, the more things stay the same". . . or not. Students will be required to attend one Broadway show.
Wednesdays, 8:30 – 10:50 am with Professor David Baecker

Contact
Dr. Tonya Moutray
Honors Director, Russell Sage College
518-244-2406
[email protected]