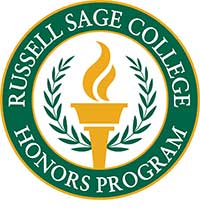 The Russell Sage College Honors Program offers highly-motivated students an innovative, rigorous, and participatory educational experience. The program challenges women to be engaged contributors and leaders within the academic community. A member of the National Collegiate Honors Council, the RSC Honors Program is designed to:
Enrich any course of study at Sage.
Deliver Honors coursework in a variety of pedagogical modes to foster intellectual and creative risk-taking, the examination of diverse knowledge, and trans-disciplinary approaches to problem-solving and research.
Provide Honors-related academic advising from the Honors director, faculty, and Associate Dean of Academic Advising.
Promote women's engaged scholarship and leadership on local and global levels through conference participation, service-learning, and study abroad.
Deepen the intellectual community at RSC through Honors-sponsored lectures, colloquia, and other events.
Apply Now

Benefits
Honors students receive priority enrollment in Honors Seminars. Non-Honors students who wish to enroll in an Honors course must carry a minimum G.P.A. of 3.0 and with the permission of the Honors Director.
Students receive a customized Honors sash for graduation.
In recognition of our institution's founder and her commitment to the advancement of women's education, Honors graduates receive the following distinction on their transcripts: "Margaret Olivia Slocum Sage Scholar."
Requirements
15 credits of Honors Coursework / 12 credits for transfer students. Honors coursework includes Founder's Seminar, Honors Seminars, Oxford-Style Tutorials, study abroad, or program-based Honors projects. Students are highly encouraged to take additional Honors coursework to enhance their Honors experience.
Presentation of research or creative work at a regional, national, or international conference or appropriate community venue.
Demonstration of "engaged scholarship" through participation, leadership, and service. Can include active participation and leadership in Honors Societies, student governance, service-learning, and events that promote the cultural and intellectual enrichment of the local community.
Maintain a cumulative G.P.A. of 3.4.
Honors Seminar Courses: Fall 2017
HST 248-01: Big History
"Where did I come from? Where am I going" Can there be any more fundamental questions? Our course Big History: From the Big Bang to Artificial Intelligence" attempts to answer those very questions with a multi-disciplinary approach to the core questions of existence, from the creation of the universe some 13.7 billion years ago, to the origins of life here on Earth perhaps ten billion years later to the emergence of the first humans, culminating eventually in humanity's more recent effort to build first civilization itself then the creation of the globalized planet of the early 21st century to the challenges of a human computer synthesis some have projected for the future.
Mondays and Thursdays, 8:00 – 9:20 am with Prof. Steven Leibo

PACE/SOC/POL 232-01: Science, Technology and the Law
This course covers various aspects of science philosophy and explores the policy making challenges we face from the explosion of scientific and technological advances.
Tuesdays and Fridays, 11:00 am – 12:20 pm with Prof. Pam Katz

THR/ENG 348: Tennessee Williams' Women
Perhaps no playwright in the American Theatre has written as many iconic female characters as Tennessee Williams. Amanda Wingfield, Blanche DuBois, Serefina Delle Rose, Maggie the Cat and Alexandra Del Lago are but a few of his complicated creations that evoke the South, hot weather and heightened sexuality. Using Donald Spoto's celebrated biography, Williams' Women will examine the playwright's life in relation to these characters and how, in addition to writing his characters, Williams crafted his own iconic personality.
Wednesdays, 8:30 – 10:50 am with Prof. David Baecker
Oxford-Style Tutorials: Fall 2017
SCI 348-01: Cosmic Black Holes
Cosmic "black holes" are regions of space with unique gravitational and optical properties. Through guided and self-directed study of the topic, students will separate fact from fiction and begin to understand these strange objects and the scientific and mathematical principles used to detect them, describe them, and explain their existence.
Wednesdays, 8:30 – 10:50 am with Prof. Frank Vozzo

HST 348-01 and 348-02: Socialism
In the United States, "socialism" is not currently a subject for polite conversation, and, as both a philosophic outlook and a historic social movement, it is largely ignored, marginalized, berated, or demonized. Yet, in most of the world, it continues to be, as it has been for the last century and a half, a vital ideology and an important presence in the political sphere. Indeed, even in the US, from the late 19th century to the post World War II period, then again in the 60s and early 70s, socialism has been a significant factor in the country's cultural and political life. Now, some argue that in the chaotic wake the capitalist crash of 2008, interest in socialism is again on the rise. This Oxford-Style Tutorial, through readings and discussions determined jointly by the instructor and the students, will probe the complex of meanings and realities of socialism over the last two hundred years of world history.
01: Wednesdays, 8:30 – 10:50 am
02: Tuesdays, 8:30 – 10:50 am
Prof. Andor Skotnes
Contact
For more information about the RSC Honors Program or to enroll in any of these Honors Courses, please contact Dr. Tonya Moutray, Director of the Honors Program.
Dr. Tonya Moutray
Honors Director, Russell Sage College
518-244-2406
[email protected]