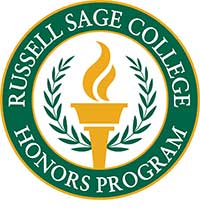 The Russell Sage College Honors Program offers highly-motivated students an innovative, rigorous, and participatory educational experience. The program challenges women to be engaged contributors and leaders within the academic community. A member of the National Collegiate Honors Council, the RSC Honors Program is designed to:
Enrich any course of study at Sage.
Deliver Honors coursework in a variety of pedagogical modes to foster intellectual and creative risk-taking, the examination of diverse knowledge, and trans-disciplinary approaches to problem-solving and research.
Provide Honors-related academic advising from the Honors director, faculty, and Associate Dean of Academic Advising.
Promote women's engaged scholarship and leadership on local and global levels through conference participation, service-learning, and study abroad.
Deepen the intellectual community at RSC through Honors-sponsored lectures, colloquia, and other events.
Apply Now

Benefits
Honors students receive priority enrollment in Honors Seminars. Non-Honors students who wish to enroll in an Honors course must carry a minimum G.P.A. of 3.0 and with the permission of the Honors Director.
Students receive a customized Honors sash for graduation.
In recognition of our institution's founder and her commitment to the advancement of women's education, Honors graduates receive the following distinction on their transcripts: "Margaret Olivia Slocum Sage Scholar."
Requirements
15 credits of Honors Coursework / 12 credits for transfer students. Honors coursework includes Founder's Seminar, Honors Seminars, Oxford-Style Tutorials, study abroad, or program-based Honors projects. Students are highly encouraged to take additional Honors coursework to enhance their Honors experience.
Presentation of research or creative work at a regional, national, or international conference or appropriate community venue.
Demonstration of "engaged scholarship" through participation, leadership, and service. Can include active participation and leadership in Honors Societies, student governance, service-learning, and events that promote the cultural and intellectual enrichment of the local community.
Maintain a cumulative G.P.A. of 3.4.
Oxford-Style Tutorials: Fall 2017
HST 348-01 and 348-02: Socialism
In the United States, "socialism" is not currently a subject for polite conversation, and, as both a philosophic outlook and a historic social movement, it is largely ignored, marginalized, berated, or demonized. Yet, in most of the world, it continues to be, as it has been for the last century and a half, a vital ideology and an important presence in the political sphere. Indeed, even in the US, from the late 19th century to the post World War II period, then again in the 60s and early 70s, socialism has been a significant factor in the country's cultural and political life. Now, some argue that in the chaotic wake the capitalist crash of 2008, interest in socialism is again on the rise. This Oxford-Style Tutorial, through readings and discussions determined jointly by the instructor and the students, will probe the complex of meanings and realities of socialism over the last two hundred years of world history.
01: Wednesdays, 8:30 – 10:50 am
02: Tuesdays, 8:30 – 10:50 am
Prof. Andor Skotnes
THR 348:  The Season: A Candid Look at Broadway
In 1967, playwright William Goldman did exhaustive research into every play and musical opening in that theatre season. The result was The Season, a now-celebrated text that exposed every nook and cranny of the Broadway theatre, from the agents, actors and directors, to the union bosses, ushers and landlords. This course will explore Goldman's historic text as a lens for contemporary Broadway, using resources of the New York Times, Playbill, and the American Theater Wing to examine audiences and artists past and present to determine if indeed, "the more things change, the more things stay the same". . . or not. Students will be required to attend one Broadway show.
Wednesdays, 8:30 – 10:50 am with Prof. David Baecker
THR 348: Beyond Downton Abbey: The Country Estate in Lit and Film
From the manicured wilderness of Jane Austen's Pemberley to the plantation of Tara in Margaret Mitchell's Gone With the Wind, this Oxford-Style Tutorial will explore the trope of the "country estate" through literature and film. Classic "country estate" poems in the British tradition, such as Aemilia Lanyer's The Description of Cooke-ham (1611) and Sir John Denham's Cooper Hill (1645) establish the symbolic value of place, inheritance, agrarian community, and architecture in genteel English culture before terror and fantasy collide in the interiors of Thornfield Manor (Charlotte Bronte's Jane Eyre) and the ever-haunting Manderley (Daphne DuMaurier's Rebecca). How does American Hollywood reimagine these sites? How does the country estate colonize other cultures and regions? To what effect? Additional works include: Evelyn Waugh's Brideshead Revisited; Elephant Walk, directed by William Dieterle; and Rumer Godden's The River, directed by Jean Renoir.
Wednesdays, 8:30 – 10:50 am with Prof. Tonya Moutray
Honors Seminar Courses: Spring 2018
ENG/NSG/WST 267: Ill-Behaved Women: Nursing and Literature
This interdisciplinary honors course's focus is on the history and portrayal of nursing and nurses in literature, throughout the nineteenth- and twentieth-centuries. This course will explore from the origin of nursing, with the religious orders of women who preceded Florence Nightingale in tending the ill, to the present-day empowerment of women in nursing. The influence of gender, race, and class on the challenges and opportunities that the diverse women of nursing endured and still do today will be analyzed. Students will examine the role of nursing in a variety of text selections, including historical literature, biographies, selected essays and fiction, as well as film/T.V. excerpts. The course emphasizes the important contributions that women have made in the development of the field of nursing, including creating an awareness of the profession through literary production.
Mondays and Thursdays, 8 – 9:20 am with Prof. Kathleen Buono and Prof. Tonya Moutray
HST/POL 336: U.S Foreign Policy
American isolationism is a myth. Learn how the United States has engaged in the world from the Declaration of Independence to today. Explore the international challenges the U.S. has faced, the tools (diplomatic, economic, and military) it has used, and the approaches and strategies it has followed. Assess the partial successes U.S. foreign policy has achieved, and the partial failures it has endured. Investigate how American foreign policy is made in terms of the roles of the president and Congress, soldiers and bureaucrats, media and public opinion, and interest groups foreign and domestic. As a cross-cultural course, we will focus on American negotiating behavior, and yours. You will sharpen your skills of inter-cultural negotiation. You will investigate how national cultures and institutional cultures shape foreign policy and American negotiation behavior, how other countries see U.S. foreign policy, and how the U.S. sees other national cultures. We will compare Secretaries of State including Madeline Albright and Condoleezza Rice.
Wednesdays, 9:30am – 12:20 pm with Prof. Stephen Schechter
HST 238: History of Medicine and Healthcare
"If you don't have your health, you don't have anything," Prince Humperdinck is told in the film The Princess Bride and few over the eons of human existence would be likely to disagree. Sadly, though the evolution of humanity's efforts to provide the skills and services necessary to address the many medical problems that ever so frequently plague people has often lead to a deadly mix of accomplishment, horrific malpractice, and at times raw torture. Our course on the evolution of medicine and the healing arts will offer a broad survey of how communities across the planet, from ancient China to the medieval Middle East, from the Greco-Roman Era to Early Modern Europe, and eventually the contemporary world, have attempted to address the challenge of healthcare.
Mondays and Thursdays, 8 – 9:20 am with Prof. Steven Leibo
Contact
For more information about the RSC Honors Program or to enroll in any of these Honors Courses, please contact Dr. Tonya Moutray, Director of the Honors Program.
Dr. Tonya Moutray
Honors Director, Russell Sage College
518-244-2406
[email protected]