The Other Wes Moore: One Name, Two Fates.
By Wes Moore
Lecture and Book Signing
Wes Moore will be at The Armory at Sage College of Albany on September 16, 2016, at 7 pm for a lecture and book signing.
Reading Resources:
About the Book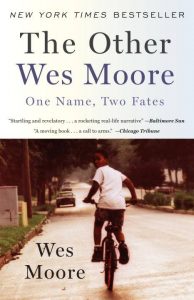 Two kids with the same name, liv­ing in the same city. One grew up to be a Rhodes Scholar, dec­o­rated com­bat vet­eran, White House Fel­low, and busi­ness leader. The other is serv­ing a life sen­tence in prison for felony mur­der. Here is the story of two boys and the jour­ney of a generation.
In Decem­ber 2000, the Bal­ti­more Sun ran a small piece about Wes Moore, a local stu­dent who had just received a Rhodes Schol­ar­ship. The same paper also ran a series of arti­cles about four young men who had allegedly killed a police offi­cer in a spec­tac­u­larly botched armed rob­bery. The police were still hunt­ing for two of the sus­pects who had gone on the lam, a pair of broth­ers. One was named Wes Moore.
Wes just couldn't shake off the unset­tling coin­ci­dence, or the inkling that the two shared much more than space in the same news­pa­per. After fol­low­ing the story of the rob­bery, the man­hunt, and the trial to its con­clu­sion, he wrote a let­ter to the other Wes, now a con­victed mur­derer serv­ing a life sen­tence with­out the pos­si­bil­ity of parole. His let­ter ten­ta­tively asked the ques­tions that had been haunt­ing him: Who are you? How did this happen?
That let­ter led to a cor­re­spon­dence and rela­tion­ship that has lasted for sev­eral years. Over dozens of let­ters and prison vis­its, Wes dis­cov­ered that the other Wes had a life not unlike his own: Both had grown up in sim­i­lar neigh­bor­hoods and had dif­fi­cult child­hoods, both were father­less; they'd hung out on sim­i­lar cor­ners with sim­i­lar crews, and both had run into trou­ble with the police. At each stage of their young lives they had come across sim­i­lar moments of deci­sion, yet their choices and the peo­ple in their lives would lead them to aston­ish­ingly dif­fer­ent destinies.
Told in alter­nat­ing dra­matic nar­ra­tives that take read­ers from heart-wrenching losses to moments of sur­pris­ing redemp­tion, The Other Wes Moore tells the story of a gen­er­a­tion of boys try­ing to find their way in a chal­leng­ing and at times, hos­tile world.
About the Author
Wes Moore is a youth advo­cate, Army com­bat vet­eran, social entre­pre­neur, and host of Beyond Belief on the Oprah Win­frey Net­work. His first book The Other Wes Moore became an instant New York Times and Wall Street Jour­nal bestseller.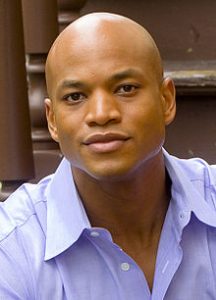 Born in 1978, Wes and his sis­ters were raised by their wid­owed mother. Despite early aca­d­e­mic and behav­ioral strug­gles, he grad­u­ated Phi Theta Kappa in 1998 as a com­mis­sioned offi­cer from Val­ley Forge Mil­i­tary Col­lege, and Phi Beta Kappa from Johns Hop­kins Uni­ver­sity in 2001, where he also played foot­ball and earned a bachelor's degree in Inter­na­tional Rela­tions. He then became a Rhodes Scholar, study­ing Inter­na­tional Rela­tions at Oxford University.
After his stud­ies, Wes, a para­trooper and Cap­tain in the United States Army, served a com­bat tour of duty in Afghanistan with the 1st Brigade of the 82nd Air­borne Divi­sion. Wes then served as a White House fel­low to Sec­re­tary of State Con­deleezza Rice. He serves on the board of the Iraq Afghanistan Vet­er­ans of Amer­ica (IAVA), The Johns Hop­kins Uni­ver­sity, and founded an orga­ni­za­tion called STAND! that works with Bal­ti­more youth involved in the crim­i­nal jus­tice system.
Wes is com­mit­ted to help­ing the par­ents, teach­ers, men­tors, and advo­cates who serve our nations youth. A por­tion of all book pro­ceeds for "The Other Wes Moore" are being donated to City Year and the US Dream Academy.