Grad Student Promotes Student Leadership in Interprofessional Education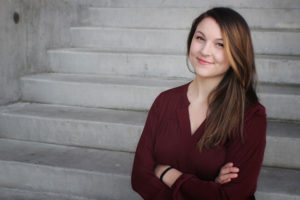 Occupational Therapy graduate student Gina Gerlach founded a new Interprofessional Education Club at Sage to increase opportunities for future occupational and physical therapists, nurses, dieticians, mental health professionals and others to learn together. The club's conference in conjunction with the Steffans Scleroderma Foundation attracted students from Sage's School of Health Sciences and other Albany-area colleges. "As a result of this conference, 100 future health care professionals know more about an often undiagnosed or misdiagnosed disease that requires interprofessional coordination," said Gerlach.
She said Professor of Occupational Therapy Barbara Thompson OTD, LCSW, OTR, who chairs the Faculty Interprofessional Education Committee, inspired her to establish the club, and the educational and health sciences resources of the Capital District – "another great thing about studying at Sage" – multiply opportunities to learn from others.
For example, Gerlach said she learned a lot about "interdisciplinary subtleties" while planning the conference with pharmacy students from a neighboring school. "I brought a big picture, holistic view and the pharmacy students had a precise, detailed approach. That's their skillset," she said. "Value increases when you put skillsets together."
While improved patient outcomes is the ultimate goal, Gerlach emphasized that collaboration can also increase job satisfaction for health care practitioners. "We have to become comfortable collaborating with each other as students, so we'll recognize interprofessional initiatives at our fieldwork and first jobs," she said. "And if we don't find them, we'll recognize the opportunity to be a leader by implementing them."
Gerlach has completed two field experiences so far, one with a home health care agency in Albany and another at a day program for older adults in Troy. She has three more placements coming up – at a local school-based pediatrics program next semester and at a neurorehabilitation hospital in Lakeview, Wisconsin, and in an adolescent mental health program in Baltimore in summer 2018. She's excited about the variety of settings that will be open to her once her education is complete and said, "I will definitely stay involved as an advocate for interprofessional collaboration. I've accepted its importance as a student and will put it in practice as a professional."
MORE
Campus and Professional Service: In addition to founding the Interprofessional Education Club, Gerlach has been a teaching assistant and peer tutor for anatomy and physiology classes and co-president of the Student Occupational Therapy Association. After attending the American Occupational Therapy Association's student conclave in Detroit, she spearheaded successful fundraising efforts to send several Sage students to the American Occupational Therapy Association conference in Philadelphia in 2017, which marked 100 years of occupational therapy as a profession.
Alumnae Inspiration: Gerlach received support from the Marjorie Fernleaf Booth RSC '50 Scholarship for Occupational Therapy or Health Sciences students at Russell Sage College. "I do think about that gift and I really do hope to carry on her name in the work that I do."
Why Sage: Gerlach is in her final year of Sage's 3+2 program, in which qualified students can earn a bachelor's degree in Health Sciences (or another approved subject) and a Master of Science in Occupational Therapy in less time than it would take to pursue each degree separately. Gerlach said the accelerated degree, as well the well-regarded, accredited Occupational Therapy program, small class sizes and variety of class offerings, attracted her to Sage.