Graphic Design USA Names Leah von Fricken a "Student to Watch"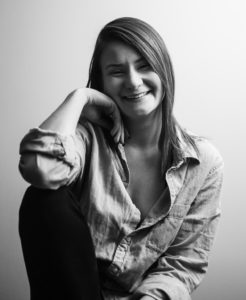 Leah von Fricken, a Graphic + Media Design major in Sage College of Albany's Class of 2018, has been named a "Student to Watch" by Graphic Design USA. The magazine's annual list recognizes talented students nominated by faculty at leading art and design schools.
"What appeals to me about design is the combination of freedom and discipline. It can be extremely creative but at the same time it has to be very intentional," said von Fricken, who credits Sage with helping her build the technical, problem-solving and communication skills needed to succeed as a graphic and media designer. She added that she worked hard to get comfortable with the critique process that is central to a visual arts education, and she believes that also helped her stand out for the recognition from GDUSA. "I've tried to always value and utilize feedback, especially when it is critical," she said. "I know that it is what's helped me make my best work." She has been involved in Sage's student AIGA chapter and with Vernacular, the student-produced art, design and literature publication.
The recent grad said the GDUSA honor brought back memories of when she first applied to Sage, and an admission counselor sent her a copy of that year's GDUSA Students to Watch issue, which also featured a Sage student. "I remember thinking how cool that was and how badly I wanted that to be me. I never imagined that it actually would be. I was incredibly honored and grateful."
Read GDUSA's Q&A with Leah von Fricken.