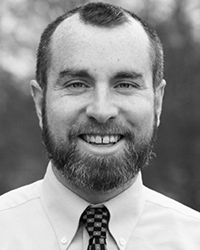 Patrick Farley [M.S., Esteves School of Education, 2012] is one of five finalists for Florida's Teacher of the Year award.
Farley teaches gifted third and fourth graders at Crystal Lake Elementary School in in the Martin County School District on Florida's Atlantic Coast. He has led the school's positive behavior interventions initiative and coached the running club, track team, robotics club and 100-member Rubik's Cube club, a responsibility he took on after spending a weekend mastering the puzzle. "The students love the club and it is so cool to see a power shift in the social dynamic. The super-athletic kids crowd around peers who normally don't get the opportunity to show their skill set off in a public setting," he said.
He was initially voted Crystal Lake Teacher of the Year by his colleagues, for the connections he has built with students and their families and for his service to the school community. After he was selected as Martin County School District's Teacher of the Year, he was eligible for the statewide award. He learned that he is one of five finalists for Florida Teacher of the Year when the state commissioner of education paid a surprise visit to his classroom on a recent afternoon.
"My motivation throughout this process has been to represent my school and my district," he said. "I've also taken this opportunity to network with other teachers throughout the state of Florida and I hope to continue to do so. I recently launched an Instagram account @mr.farley_speaking and a Twitter account @farley_speaking to connect more with other educators."
Farley joined the faculty at Crystal Lake five years ago, shortly after he completed his master's degree at Sage's Esteves School of Education. "Sage prepared me in a lot of ways, but I think the biggest thing I took away from Sage was how to be a reflective teacher," he said. "Trends in education change; policies and culture change from one district to another. If your education trained you to be reflective as Sage did for me, you can adjust to anything. I have fond memories of my professors, but the biggest learning moments came through the student teaching placements Sage provided me. Nothing beats being out in the field and learning on your feet."
The Florida Department of Education will announce the statewide winner at a gala on July 13 and Farley will be prepared. "I just have to sharpen some of my dance moves," he said. "All of the hard work is already done. Now comes the fun."