Athletics Director Ready to Build on Victories of First Year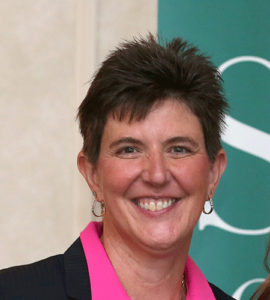 Sandy Augstein-Collins '87 was named director of athletics at The Sage Colleges in June 2017. Her first year as director coincided with the Gators' first year in the NCAA Division III Empire 8 conference and preparation for new field hockey and men's lacrosse teams, which begin competition in fall 2018 and spring 2019 respectively. "It is certainly an exciting time for Sage athletics," Augstein-Collins said. "I am looking forward to our new teams and our continued success in the Empire 8 conference."
Conference Callouts
Augstein-Collins identified some Empire 8 successes so far: the men's soccer team advanced to the conference finals and the women's basketball team competed in the semifinals. Seventeen student-athletes received conference honors, including Men's Soccer Player of the Year River Seybolt '19 and Empire 8 and United Volleyball Conference Rookie of the Year Scott Sanders '20.
The new director was as proud as any of the student-athletes after every Gator win – especially when the men's volleyball team beat nationally-ranked Massachusetts Institute of Technology – but counted the Sage Athletics Hall of Fame banquet in December and the Athletics Awards banquet in April among her personal highlights. "I have a unique perspective of Sage and its athletic program because of my role as a student-athlete, coach and now as Director of Athletics," Augstein-Collins said. "I strive to make sure that our student-athletes have the best experience possible, knowing how much those experiences shape your growth and development and how much the memories mean to you years later."
Eyes on the Ball
Her priorities for the 2018-2019 season include recruiting and retaining student-athletes who will help Sage grow its athletics programs and field competitive teams in all the sports and expanding student-athlete leadership opportunities. She also serves on Sage's strategic planning committee and as second vice president of the Empire 8 conference. "Being involved with the strategic planning committee helps me interact with more of the campus community and represent Sage Athletics on a broader scale," she said. "Being involved in the Empire 8 gives me an opportunity to have an impact on decisions and the course that Empire 8 takes in the future, and access to ideas from my peers to implement for our own athletics department."
Augstein-Collins received her B.S. in Physical Education from Russell Sage College, where she also played intercollegiate volleyball. She joined Sage as associate athletics director and head women's volleyball coach in 2011 after serving as head women's volleyball coach at Union College for 11 years. She is pursuing a doctorate in Sport Psychology from the University of the Rockies and holds a master's degree in Physical Education with a concentration in teaching and administration from Springfield College in addition to her Russell Sage degree.
Get the latest athletics news at SageGators.com.