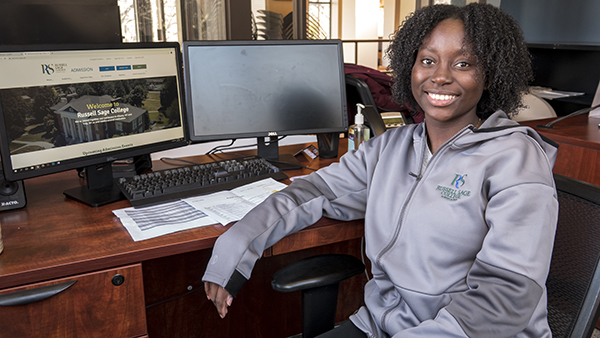 Alice Antwi grew up in the Chicago area, before moving to the Bronx in New York City. So it seems fair to question if she found coming to Albany a major adjustment.
"Not at all," she says. "It has just the right balance for me. There's a big city feel, but it's a city that sleeps." Though Alice does like returning home to New York City from time to time, to catch up with family and friends. Again, it's the balance she appreciates.
She's also thankful for the way she was able to ease into college life, as part of the Arthur O. Eve Higher Education Opportunity Program. All HEOP students attend the Summer Academic Institute prior to their first semester at Sage. "I felt engaged before all the other students arrived on campus," Alice says. "The campus already felt like home."
Alice is studying Public Health and hopes one day to earn a master's in that area. "During my time here, I really feel like I've grown in my leadership skills," she says. "I've learned to 'own it.' Sometimes you have to work harder when you're part of an under-served population, and I've learned to push myself to do that. I've had help. It's also been pulled out of me."
She's also an AHEC Scholar. A partnership between Sage and the Hudson Mohawk Area Health Education Center, this program places students at health centers and provides mentoring and supplemental education.
The overall key to her success, Alice says, is that Sage has made her feel like she belongs. She feels "accepted into the family."
"College is hard. You need to be sure that you have the right people around you," Alice says. "You will feel it when you do. I have felt it. I've had the right people around me."