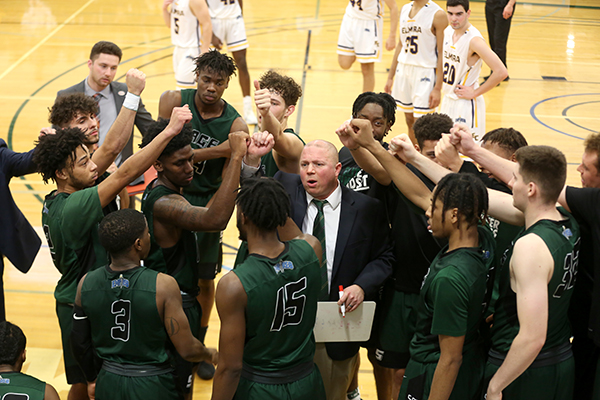 When Brian Barnes arrived at Sage in 2008, he already had an impressive resume. He'd played four years for a large state university, where he was a tri-captain his senior season. He then went on to become his alma mater's director of basketball operations, before serving for three years as varsity assistant coach at RPI.
And yet, Coach Barnes was only 26 years-old when he started Sage's Division III basketball program.
In the decade that followed, he would make basketball a major force in Sage campus life, while earning the respect of coaches and fans all around the Empire 8 league.How did he accomplish all this?
"When I'm recruiting players, I have a lot to sell," Coach Barnes says. "This region is college-rich, which means there's a lot going on. And Sage, specifically, offers that personal touch. It isn't just the small classes. Professors take the time to get to know you by your first name. And there's very little that can't be solved here by picking up the phone or taking a walk across campus."
While he doesn't come right out and say this, there is also Coach Barnes himself.
"I love the opportunity to make a difference in the lives of young people," he says. "I get to help them become more accountable, and to help them accomplish their goals. Coaching is a terrific profession. I'm given the chance to help mold the lives of my players, and be a role model for them."
Division III sports may not have the glitz and glamour of the larger programs, but Coach Barnes says he and his players have an experience the Division I programs can't so easily offer. "Here at Sage we have true student-athletes. They're working just as hard in the classroom as they are on the basketball court. They're having the full college experience."
Coach Barnes is quick to point out that, "student comes before athlete." Year after year, Sage student-athletes achieve an average G.P.A of 3.0 or higher.
That's because Sage leadership, according to Coach Barnes, truly cares about the student-athlete experience. "They support us all. They support the student-athlete. They really do want them to succeed in life as well as in sports."