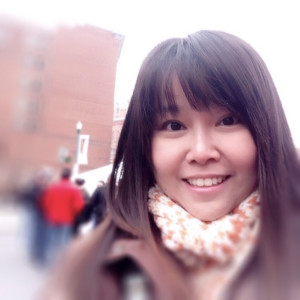 Chayapa Chaisuwan is a pediatric nurse and member of the nursing faculty at Mahidol University in Bangkok, Thailand, who is earning a doctorate in Nursing Education and Leadership at Sage.
"Professors at Sage are role models for me," she said. "I came here and saw a different way to teach and improve creative and critical thinking."
In the United States, Chaisuwan enjoys being encouraged to ask questions during lectures and contribute to class discussions, which is uncommon in Thailand's nursing classrooms and clinical rotations (although this is changing as more professors study in the US, she said.)
Her observations about nursing education in the two countries inspired her dissertation, a comparative analysis of how cultural values influence critical thinking among undergraduate nursing students in the United States and Thailand.
"Critical thinking is important to improve the delivery of health care," she said. "When I saw the way of teaching critical thinking at Sage, I felt like this is so important and I need to study it."
Chaisuwan said she was attracted to a nursing career because she would learn practical skills to care for family members, and it offered stable employment. After earning a master's degree and beginning to teach, she was honored to be selected for a scholarship from the Faculty of Nursing at Mahidol University to earn a doctorate in Nursing Leadership and Education at Sage.
"When I came here, I was so impressed with the environment but the thing that made me more impressed are the people," said Chaisuwan, now in her final semester. "The Americans and the people at Sage are willing to help me, answer me and support me. This is a great opportunity for me to study here. I will bring back teaching strategies to improve critical thinking to share with my students and fellow faculty members."
About Sage's Partnership with Mahidol University
In 2009, Her Royal Highness Princess Maha Chakri Sirindhorn of Thailand visited Sage and later helped establish connections between Sage's Department of Nursing, Mahidol University, Siriraj Hospital and other educational and health care institutions in Thailand. Since that time, Chaisuwan and her classmate Patcharee Sanehjaroen are the fifth and sixth nurses from Thailand to earn graduate degrees at Sage; five nurses from Thailand are expected to enroll in Sage's master's level nurse practitioner program in 2020. Nursing faculty from Sage have also visited Thailand.