Friends Everywhere
Christian Tavares
Law & Society
When Sage College of Albany student Christian Taveras arrived at a village in Cape Coast, Ghana, in July 2016, he was surprised to be singled out from the eight other college students from across the United States with whom he arrived.  "Miss Mary said, 'You're Christian, aren't you? Come to my classroom! Let's talk," he said.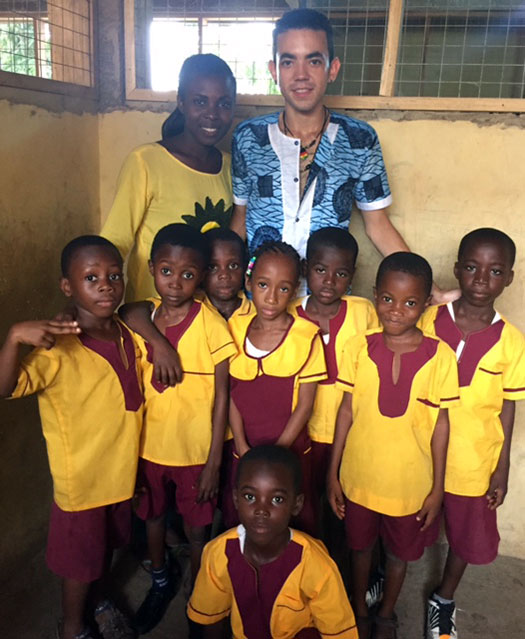 Taveras was in Kakumodo Village to volunteer at its school with a delegation from Operation Crossroads Africa, the organization that former President John F. Kennedy identified as the "progenitor of the Peace Corps." Several Sage students have worked with Operation Crossroads Africa over the last few years, including Dayle Carhart SCA '17, who was assigned to the same school in Ghana last year, and who encouraged her former colleague to befriend Taveras. "I immediately felt welcome," he said.
At the Foundation for Economic Development and Educational Promotion's International School, which offers the American equivalents of pre-k through junior high, Taveras led lessons and provided one-one-one instruction for every grade level, under the direction of full-time teachers.
He said it was an extraordinary experience that reinforced his intention to pursue a career that will help make the world a better, safer place for children. It was also his first trip abroad – and he expressed appreciation for the donors who support travel funds for Sage students. "I now know I can make friends anywhere," he said.
Taveras – a Law & Society major concentrating in Psychology – will graduate in December 2016 and is applying to graduate programs in Latin American & Caribbean Studies.