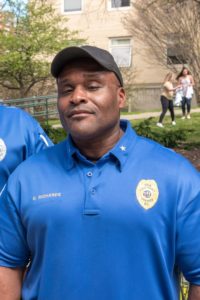 Put aside any preconceived ideas you might have about public safety officers, and consider this little story involving Don Richards.
He's making his rounds of the Troy campus one weekend when he sees a family looking lost. They'd arrived there thinking they'd take a campus tour. But they'd come on the wrong day.
As soon as he heard how far they'd traveled, Don sprang into action; Assistant Director of Public Safety became seasoned campus tour guide. He took the family to all the important campus locations, and then, after interviewing the prospective student about his particular interests, tacked on a few more places to visit.
It's safe to assume the tour was excellent, because Don has been at Sage for a dozen years. And, he's a people person.
"The best part of the job is the students," he says. "I'm blessed to have the opportunity to get to know so many of them on a personal level. I was an only child, it was just me and my mother, and now I have this huge family."
And while it's his job to help keep this huge family safe, Don says he feels great confidence in this effort. "We've got a state-of-the art dispatch center, and no expense has been spared to get the talent and equipment we need," he says. "I tell everyone: If you have a son or daughter here, don't worry, they're safe."
Don sees his primary responsibility as developing and earning the trust of students. "I want to get to know them well enough so that if something's bothering them, if something's wrong, they feel free to come to me."
He says he's far from alone in this approach. He's observed fellow public safety officers as well as faculty members over the years do countless good deeds on behalf of students. "There's a level of personal caring here that goes above and beyond."
The rewards of his job, Don says, arrive in words of gratitude. "It's when families come to me and say: Thanks for watching out for our kids."