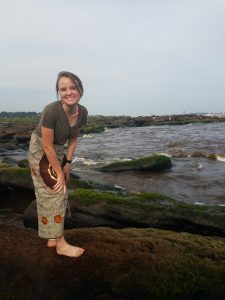 The Health Resources and Services Administration awarded an extremely competitive Nurse Corps Scholarship to Emily Mackey, a Nursing major in Russell Sage College's Class of 2020. Mackey will receive money toward her education, and in return, will work for two years in an area with a critical shortage of nurses.
"I view my two-year Nurse Corps commitment as the beginning of a lifetime of caring for those who are underserved and missed by health care in our society," said Mackey, who earned a bachelor's degree in Theology, then worked as a patient care technician in the Albany area and as a volunteer at a medical mission in the Republic of Congo before she entered Russell Sage College for a Nursing degree.
"I am grateful to the Sage faculty for modeling what compassionate nursing care looks like in their own practice. I am also grateful for how Sage has connected me with facilities in our local community that are working to bring health care to underserved segments of the population."
Mackey intends to pursue a nursing doctorate in the future, but is looking forward to learning as much as she can as a registered nurse for the next several years. "I am eager to spend time working in the field and gaining clinical experience before pursuing a further academic degree," she said.