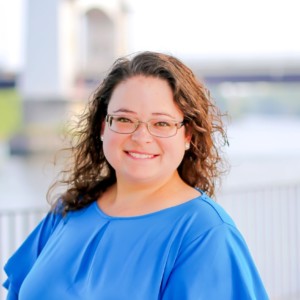 When Erica Kirkland Warner first walked on the Sage campus after transferring from Hudson Valley Community College, what struck her was the sense of pride the students had.
How did that pride manifest itself?
Erica says the Sage students just seemed happy to be in school, and were really focused on what they were doing.
Erica would soon find out why.
"The professors made you dig deep," she says she discovered. "They'd get focused on you and what you were doing, and that made you get focused."
She also made friends on her very first day on campus, something that still strikes her as remarkable. These were two students who were also recent transfers. "And 10 years later," Erica says, "I still talk to these two women all the time."
Erica graduated from Sage in 2010 with her B.S. in Organization Management. In 2013, she completed her M.S. in Organization Management at the graduate school.
She says it was just the kind of education she wanted and needed, in the way it provided so many real life experiences and case studies.
Today, Erica is the community impact manager at the United Way of the Greater Capital Region. Her job includes advocacy and coordination of volunteer opportunities, as well as her work with the 211 program, which provides access to local community services like referrals to physical and mental health resources, housing, utility, food and employment assistance.
She says she continues to use what she learned at Sage on a very regular basis, "creating strategies to move the organization forward, and trying to manage corporate relationships."
Erica serves on the Russell Sage College Alumnae Association board because, she says, "I still have such a connection there."
She still remembers what it felt like when she transferred in. It's a moment she'd like to see other young students have.
"If you'd drive through campus," she'd tell them. "If you walked around on a day when classes are in session. Watch carefully. You'll get that feeling. It's like how some women feel when they know they've found their wedding dress. That's what I felt when I got to Sage."