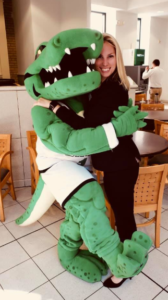 From the moment Erin Menzer first stepped onto Sage's Troy campus as a high school junior, she knew she didn't want to apply anywhere else.
Sometimes we just know where we're meant to be.
Fifteen years later, Erin is still at Sage, as associate director of transfer and graduate enrollment management. She left for a time after graduation, working in admissions at a college in Maine, but when the opportunity to work for her alma mater presented itself, she jumped at the chance.
What called her back is what had originally captured her as a teenager. "I felt comfortable here. There's a sense of camaraderie."
It's not as if Erin always knew what she wanted and needed. As an undergrad, she changed majors multiple times.
"But that's another thing about this place," she says. "It's okay not knowing what you want to do. It was always about allowing me to find my own voice. From day one, you can step out of your comfort zone, because Sage is ready with the safety net.
"By the time I graduated with my bachelor's degree, I was completely confident in my own ideas, while still knowing it was okay to make mistakes and change directions."
Today, Erin focuses much of her attention on those students who are considering transferring to Sage. She sees it as a mission to make sure they understand there's still so much they can get from the Sage experience, even if they are at Sage for less than the traditional four years.
"They have different expectations," she explains. "What I want them to know is that we care about them as much as we care about incoming freshmen. We want to make sure they have the ability to achieve their goals and aspirations, too."
Erin has been able to reach hers.
"It's been so cool for me to work at my alma mater," she says. "Sage did so much for me and now I'm able to give back. Now I'm in a position to tell students that if they come here, they can find their voice. And most importantly, make connections that last a lifetime."