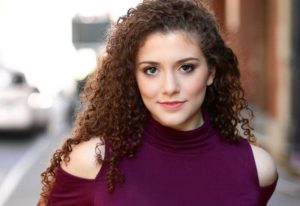 Francesca Volpe spent summer 2019 in Actor Therapy's New York or Bust Summer Intensive, a highly-competitive series of master classes, meetings with casting directors and more, for aspiring theatre professionals.
"I actually sang for the current Phantom on Broadway, Ben Crawford, and worked on pieces with him," she said. Another highlight was singing in the Actor Therapy showcase at the renowned Feinstein's/54 Below (a venue also known as Broadway's living room, due to the theatre VIPs in the audience and on the stage.) "It was a dream come true. I sang 'God Help the Outcasts' from 'The Hunchback of Notre Dame.'"
Volpe said she had followed Actor Therapy's respected program for years online before her theatre professors at Sage encouraged her to audition. "Because of my experience at Sage, I knew the best songs for me, the best monologues for me. I suspect I stood out because I had a great resume from Sage, and worked with excellent professionals at Sage."
The summer intensive lived up to its name, Volpe said, with daily, back-to-back classes in acting, singing, dancing, auditioning and navigating the business – many taught by Tony Award-winning professionals. Sage prepared her for that, too, she said. "At Sage, we're constantly doing and that's the way to learn. I showed up to Actor Therapy ready and able to do the work. I was prepared, and that's because of Sage."
Now, back on campus, Volpe is energized for her senior year and her future career. "I am super-excited for the entire season at the Theatre Institute," she said, "and the Actor Therapy program has one hundred percent reinforced my decision to move to New York City after graduation."
Learn more about Creative & Performing Arts programs at Russell Sage College.
Learn more about the Theatre Institute at Sage.