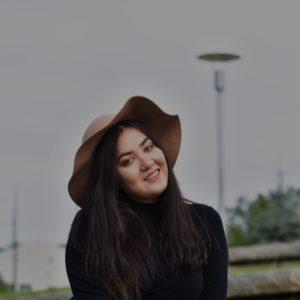 Hajar Hussaini, an Honors student and Writing and Contemporary Thought major in Russell Sage College's Class of 2019, has received a fellowship to attend the prestigious Bucknell Seminar for Undergraduate Poets this June. In the fall, she will begin her MFA at the Iowa Writers' Workshop – considered to be the top master's writing program in the United States.
"I began writing from an early age," said Hussaini, who grew up in Afghanistan. "When it comes to my poetry itself, I am inspired by the daily life in Afghanistan. My poems often incorporate stories from the nostalgic past of my father's generation to the hopelessness of a younger generation who cannot envision any future."
At Russell Sage, Hussaini worked with faculty advisor Matthew Klane to expand what had been a once-a-year poetry reading and literary journal into a vibrant monthly poetry series – now known as "The Rev Presents" – which attracts diverse and intriguing poets and a regular audience from campus and Albany and Troy's wider literary community. In addition to an annual anthology of writing and art by students, The Rev now publishes special collections that emerge from campus-wide communal poem-making activities throughout the year.
Hussaini said that her work on The Rev and the mentoring she received from Sage's writing and English faculty members were highlights of her college education. "I loved spending time at the poetry room in Shea Learning Center," she added. "The level of Sage's commitment in acquiring the collection of poetry is heartwarming."
Hussaini worked for international organizations in Kabul before she learned about Sage through the Initiative to Educate Afghan Women. She lived on the Russell Sage campus in Troy, but took the majority of her classes on Sage's Albany campus and appreciated getting to be involved on both campuses. She also worked in the dean's office in Albany and was president of the Athenian Honor Society in Troy.
After her MFA, Hussaini hopes to pursue a doctorate in Middle Eastern Studies or Comparative Literature. "My goal is to write my dissertation on contemporary Persian literature," she said. "I am also interested in translation and would like to contribute to cross-cultural understanding."