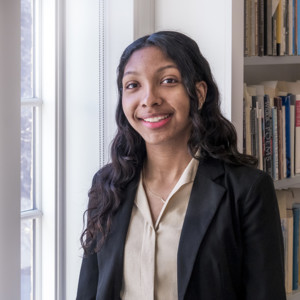 Jasmine Rojas might be the exact student the Arthur O. Eve Higher Education Opportunity Program was created to help.
First, let's consider what HEOP is about. A partnership between Sage and the New York State Education Department, it provides assistance to capable students who need financial aid, counseling, tutoring, advising and other support services. The idea is to identify and promote promising students who will succeed at Sage and beyond.
Now, let's consider Jasmine. She arrived in Troy from Brooklyn without knowing anyone and grateful as could be to have found a way to make going to college affordable for her.
Jasmine says the HEOP summer program, a five-week intensive academic program, was very important to her. "I was able to meet some amazing people who made my early college experience a success. This experience allowed me a support system as I branched out to build other relationships with students on campus."
Jasmine then became a track and field student-athlete, treasurer of the Black and Latina Student Association, a campus ambassador, and involved with Uncommon Schools, a network of charter schools with a mission to prepare low-income students for college. When she graduates, her plan is to stay in Troy while she builds her career.
What does Jasmine think it is about Sage that has helped her?
"The people here are there for you when you need it," she says. "I've had many professors who are passionate about teaching. They're engaged and interactive. And, they are really real."
Jasmine says the road she's traveled has had its bumps. She's often felt challenged to stay positive. "But I haven't felt alone," she says. "When I reached out, my voice has been heard."