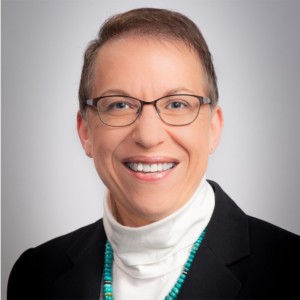 Karen Kinsman '88, says what initially attracted her to Russell Sage College were all the opportunities "to try different things, and to take on roles that, in a larger institution, I probably wouldn't have tried."
But it's hard, after learning about Karen's life since college, to think of her as ever being anything other than bold. 
She's run, helped open, and managed alcoholism/addiction programs, served on non-profit organization boards, coached and mentored, and today she directs the University of New Mexico's STEM-H Center and is on the Leadership Team for the University's Health Sciences Center Office for Diversity, Equity & Inclusion.  
"Russell Sage College provided me with so much more than an education," Karen says. "It was at Sage that the seeds were sown of what would become for me an incredibly strong foundation upon which was formed my love for leadership and service in the nonprofit world."
But Karen remembers how, when she first arrived at Sage, she didn't have the confidence and courage to become a leader.  
"My willingness to try things was nurtured at Sage," she says. "If I fell, I knew there was no one who was going to think the worse of me. I knew I had a safety net in our faculty and with other students. We had each other's backs. So, even when I thought I might not be ready, I did it anyway. And if I fell, I'd get up and try again."
Karen became a photographer for The Quill, sang in and accompanied for the women's chorus, actively participated in Rally Day leadership with her class, got involved in student government, worked as a student advisor as well as in Alumnae House, became a member of Sage Circle, helped form the first LGBT support organization on campus, and so much more over her four years at Sage. 
"My best advice," says Karen, "is to recognize that your journey will never be a straight line.  Embrace the unexpected turns and take advantage of opportunities to try something new or different (… probably uncomfortable or scary too!), when they present themselves.  Be okay with failure because it often leads to some of our most provocative life lessons and our most amazing successes."
More than anything, she says, her time at Sage made her see the extraordinary power of relationships. 
"And it wasn't just with other students," she says. "It was with our professors as well. I felt like I developed, on a number of levels, a meaningful relationship with nearly every faculty member with whom I interacted. Even now, I enjoy a continuing relationship with one of my professors, both as a friend and a mentor … over 30 years later.  I tell my son all the time that relationships, along with our responsibility to nurture and grow them, are everything!""
So, when Karen was asked to join the Alumnae Board at her alma mater, she was happy for the chance to give back. "Given the enormous impact that Sage has had on my life, what else would I say besides of course I'd do it."
But there was more. It would help her reconnect and stay connected.
"Sage is still and will always be home to me," she says. "When I'm there, I feel it the way I always felt it. And I still have extremely close relationships with several friends from our time there together. I will tell you, it's super weird, but pretty awesome to realize I have Sage sisters who are now in leadership positions at Sage – carrying the greatness of RSC into the future with incredible integrity and fidelity, even in the midst of an enormous amount of change and transition."
Karen's hope is that Sage will continue to thrive as a small, private liberal arts college.