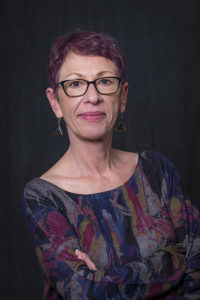 Spend a little time talking with Karla Digirolamo and you'll understand why she's been named the founding director of the Women's Institute at Russell Sage College. You may even conclude she's been preparing for this role over her entire impressive career.
"Women's issues have been one of the passions of my life," she says with a simple directness. But, of course, there's a body of work that fills out the meaning behind this passion.
Karla spent decades in New York State government, in positions focused on women's issues, developing a particular expertise in women and domestic violence, and women and poverty. In the process, she herself grew and changed in some significant ways.
"All the work I've done," she says, "has helped give me the strength and courage to believe in myself, as I've been trying to help women do for years." Now, at Sage, she'll be focused on doing this for young women, so that they might also do this for others.
"Five years from now," Karla says. "My hope is that we can't imagine not having the Women's Institute. Because it's become part of the fabric of this community. Because we've introduced to this community the great diversity of women's roles, and what it means to be a leader. And because women will see that they can be a leader in whatever it is that they choose to do."
When it celebrates its formal opening in the fall, the Women's Institute will begin rolling out its plan to offer seminars, lectures, panel discussions and conferences focused on contemporary women's issues. It will also promote women's leadership and gender inclusivity through a student learning community and expanded curricular opportunities.
"We'll be a place for women to come together," Karla says, "to learn what other women are doing, and to explore what each of us can learn from one another."
Karla sees the programs being developed in dialogue among the entire Sage community. She wants to be confident the Institute is responding to what this community has identified as real needs, of true importance.
She believes Sage is uniquely prepared to meet this challenge.
"There has been a sustaining historical focus here on women," she notes. "This is a place full of women leaders, living the vision in a very real way."