Meet Katie Gallucci '18, a Creative Arts in Therapy student focusing on Child Life. Now in her junior year, Katie is interning as a Child Life Practicum Student in the Bernard & Millie Duker Children's Hospital at Albany Medical Center.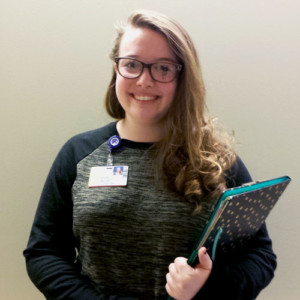 Q: Is an internship required for your major?
A: The Creative Arts in Therapy program requires an internship and has a class specifically designated for it (CAT 407). I think internships are a great way to gain real-world experience in the field of your choice, so I saw this as a great way to learn.
Q: What are your day-to-day responsibilities and what have you learned?
A: My responsibilities include organizing activities, distributing toys to patients, and offering a helpful hand to parents and guardians. I observe the Child Life Specialists, as well as other members of the pediatric team, and have seen their numerous approaches to high-stress situations – everything from procedural preparation and discussion of a diagnosis to offering support and counseling services.
I've also observed some procedures, such as IV placements, blood draws, and a lumbar puncture. I've learned that every child needs to be assessed and worked with on an individual level because all of them will react differently to any number of situations.
Q: What would you tell prospective students about interning?
A: Many times we have an idea in our heads of what a situation – or a career — will be like. Completing an internship is a great way to make sure that what you think you want to do is truly what is right for you. Maybe you imagined a job that, in reality, is very different from what you envisioned for yourself. Maybe you thought that a certain career was your calling, but you get there and feel lost – that's okay, too. Interning is the best way to explore these possibilities while also gaining experience for the future of your career.
Q: What are your post-graduation plans?
A: I want to continue my education to receive my master's degree. From there, I will decide whether I want to pursue my certification in Child Life.