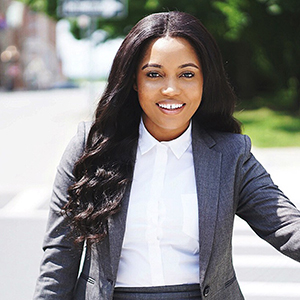 Attorney Kimberley Wallace, J.D., SCA '10 regularly returns to Sage College of Albany to reconnect with her mentor, Professor of Law & Society Bobbi Gabrenya, J.D., and to advise current students. "The cafeteria is better and the new Armory is amazing. The future looks bright for Sage," she said after a recent visit. She was on campus to meet with students enrolled at Sage through the Arthur O. Eve Higher Education Opportunity Program,* and to share with them the life and educational experiences that led to her legal career.
Wallace entered Sage shortly after moving to Albany from Kingston, Jamaica, as a teenager. "Sage attracted me because it was small and being new to the area, I wanted to be close to home. I was also very interested in the Law & Society major."
Wallace said that after growing up in a high-crime neighborhood, she knew she wanted a career in the criminal justice field, but, "When I started Sage, I did not know any lawyers, didn't know anything about law school," she said. "Bobbi Gabrenya took me under her wing and pointed me in the right direction."
The classes Wallace took for her Law & Society major, "Some very hard, Intro to Law, Eyewitness Identification and Psych and Law," as well as internships at the Schenectady County Child Advocacy Center and at a local law firm prepared her for law school. "I walked into law school very confident that I had the tools to be successful," she said.
She earned her law degree at Florida State University College of Law in 2013 and returned to upstate New York to pursue her career in criminal law, first at the Dutchess County Public Defender's Office, then at the Albany County District Attorney's Office and now at the Albany County Public Defender's Office. "Going to work every day and loving what I do is a highlight … Of course, winning trials is great but walking out of a courtroom and feeling like I put my best efforts forward, regardless of the outcome is a highlight for me," she said. "My long term goal is to open my own firm and retire on the bench as a judge."
*The Arthur O. Eve Higher Education Opportunity Program – or HEOP – is an academic success program administered by The Sage Colleges and New York State.