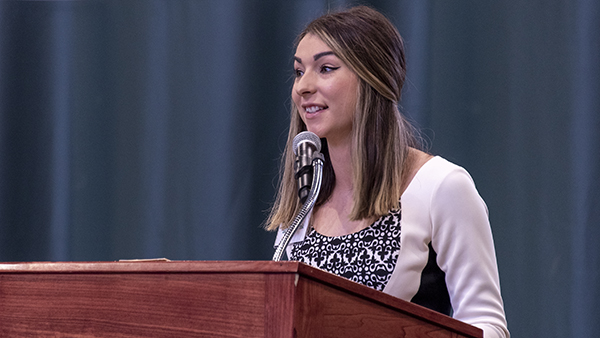 Senior Lidia LoPorto isn't waiting to start her career.
LoPorto, who majors in Business with a concentration in marketing, is a marketing and sales assistant at Groff NetWorks. She splits her classes between two days so she can spend the other three at Groff.
Her job counts as internship credit.
When she was applying for internships, LoPorto said was in the right place at the right time. At a networking event with her sister, she met her current boss.
Now, she handles everything from blogs and social media to sales, sometimes spending as many as 40 hours per week at Groff.
And when she's not there, you can find her working at Freddie's Lounge on the Albany campus or waitressing on the weekends. She was an orientation leader earlier this year as well.
"A lot of my classes have definitely shaped me to be the student that I am and the go-getter, as well as how to communicate and network," she said. "They've mostly given me theory, and I've put it into reality."
LoPorto said she recognizes the importance of networking, which her professors facilitated through classes.
"Your professors give you that connection," she said. "In the business school, we have a lot of our professors that are entrepreneurs, and they're starting their own companies."
LoPorto said the resources in the Office of Career Planning have been vital to her as well.
"We give so many opportunities for students to get out there," she said. "We offer a lot of great opportunities, so it's really up to the student. Sage has a lot of resources for every student, especially within their career."
As for the future, LoPorto hopes to one day open her own business in the marketing industry. "I see myself owning my own marketing company that is an outsource for other companies," she said. "I want to have strategic consulting in this company, as well as being able to provide a service."