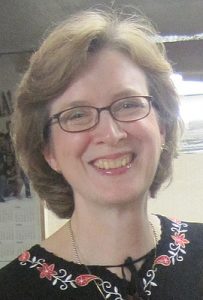 "I like to make pretty things."
Okay, that's not terribly unusual to hear someone say. But when Lynne Roblin speaks of "pretty things" what she's referring to are the costumes for Sleeping Beauty, Sherlock's Secret Life, Arsenic and Old Lace, and A Christmas Carol.
These are a selection of the shows for which she made the costumes as a member of the New York State Theatre Institute company. For nearly three decades, Lynne was the Institute's costume technician, wardrobe supervisor, and teacher, both in the Capital District and as it toured with productions throughout New York and places around the world.
Today, Lynne works with student interns and teaches directed studies in Costume Technology in the Theatre Institute at Sage, as well as designs costumes for department productions such as In the Next Room, Backbeard: The Musical, Our Town, Baskerville, and The Stinky Cheeseman.
This experience, she says, has been as rewarding as any she's had over her varied, adventurous, and successful career.
"I get to watch students develop over four years," she says. "The growth I see is amazing, and when it's time to send them out into the world, I feel like I'm sending a part of myself out there with them."
Which means she feels a little fearful as well as proud. Because Lynne knows from experience how challenging life can be when you decide the theatre is your world.
"I met and worked with many remarkable people," she says. "I had the chance to create some beautiful work over the years. But it was hard, and often not glamorous."
So why do it?
"Because you have to do what you love. Or at least I do."
The reward now for Lynne is in the teaching and sharing with her students, whether or not they pursue a life in the theatre. Creative doorways are opened. Imaginations get ignited.
And, for a young student interested in theatre, Lynne thinks Sage is an especially good launching pad.
"We're small. Our students get a chance to do everything."
The department does at least five shows a season, and students are encouraged to find additional ways to explore new experiences. Some have written plays and staged them. Others have designed sets, costumes, sound, or lights for student or department productions.
"I think the biggest recommendation for our program are the graduates who are out there doing what they love," Lynne says. "Many work in the field either as actors, directors, designers, stage managers, or theater technicians. Some right out of college, others after receiving masters degrees in various aspects of the arts.
"Whether full-time or part-time, in or out of the arts, our grads find ways to use what they learned with us to pursue their passion and enrich both their own lives and the lives of those around them."
And that too is a pretty thing.