2018 MBA Grad Receives Two Prestigious Fellowships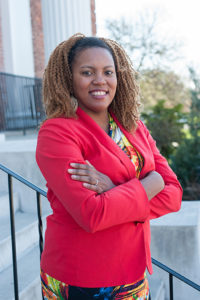 New York state's highly-competitive Excelsior Service Fellowship places recent graduate degree recipients into two-year, full-time leadership roles throughout state government. This year, three alumni from Sage's School of Management were accepted into the program, including Marlyne Fahey, MBA, '18, who was also selected for the state's new Women Lead Fellowship for Women in Government.
As an Excelsior Fellow, Fahey is a project manager at the Department of Motor Vehicles. She is helping to implement an electronic platform for formerly paper-based processes, and will contribute to other program updates at DMV. As a Women Lead fellow, she will be mentored by Sandra Beattie, deputy budget director, New York State Division of the Budget.
Fahey learned about the two opportunities through The Sage Colleges Office of Career Planning, and said that Career Planning also helped her prepare to present her education and leadership experience – which includes a tour of duty in Iraq with the U.S. Army – to the selection committees. "I met with Carleen Pallante, director of Career Planning, on numerous occasions for interview and resume prep," Fahey said. "I believe that the extra preparation sessions provided me with the confidence I needed when I interviewed for the Excelsior program. I received positive feedback from the fellowship office after the interview."
Fahey said she was attracted to Sage for her MBA because of the community feel that she loved and the project management courses that she needed to boost her career. "At this point in my life, I had certain career goals, and one of my long-term goals is to become a certified Project Management Professional, a goal I am already pursuing with this opportunity."
Candidates for the PMP exam must have significant, documented education hours and work experience. Fahey said her Sage MBA gave her a solid foundation for the professional experience she'll obtain at the state government. "I am very appreciative to have been selected for the Project Management Office here at the DMV," she said. "The Excelsior Fellowship, I know, will take me one step closer to achieving my goals."
MORE: Sage is proud of Marlyne Fahey's achievements and wishes her well during her tenure at the DMV. Read more profiles of students and alumni who have benefited from Sage's career services and connect with resources that can help you meet your career goals at The Sage Colleges Office of Career Planning.