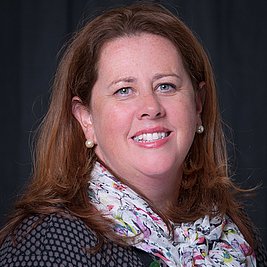 Imagine the cast of Friends getting together every year for the past three decades, say, at a ski house in Vermont, or a beach on Bermuda. Imagine Rachel has become the godmother of Monica's baby and they talk on the phone almost every day.
Only in a make-believe world.
Or not.
MaryAnn Publicover Kniska '91 had a group of great friends while at Russell Sage College. They stayed close. And each year eight of them travel together somewhere, like to a ski house in Vermont, or a beach on Bermuda. MaryAnn's college roommate is her son's godmother and they are in contact practically every day.
"I never had a sister," MaryAnn says. "Now I have my Sage sisters. I don't know what I'd do without them. We did a lot of growing up together, and we're still growing together."
The thing is, when MaryAnn first arrived on campus, she was quiet and tended to stand back and not get involved. And yet, she didn't just leave college with a bunch of life-long friends, she'd been turned into a leader, after her time as a class officer, admissions tour guide and resident assistant.
What caused this personal growth?
"Everybody just supports everybody," MaryAnn says. "Sage gives you insight into yourself. People see things in you that you don't see."
MaryAnn graduated with a degree in Psychology then went on to get a master's degree in physical therapy in Massachusetts. Recently, she received a transitional doctorate in physical therapy and teaches college in Springfield, Massachusetts. She also works per diem at Baystate Medical Center and as a consultant in her local school system.
She remembers her academic experience at Sage in much the same way she remembers the entire college experience. "The faculty really wanted to know my thoughts and guide me. The assignments we were given were meaningful and value added."
When called to ask if she'd serve on the Russell Sage College Alumnae Association Board of Directors, MaryAnn hesitated. She'd need to talk with her husband. After all, she already had a very busy life.
"My husband said, you have to do this. Look how much Sage has given you. You have to give back."
MaryAnn was in total agreement.