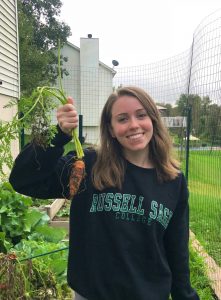 Growing up, Meghan Dillon attended a small Catholic school, before going on to a large public high school. Through this experience, she discovered she preferred learning in smaller settings. So, when it came time for college, she figured Sage would be a great fit.
How right she was.
Meghan says that before starting college, she was hesitant to get involved in extracurricular activities, but Sage gave her the confidence to do so. She ended up becoming president of her class, and graduating with a competitive GPA from the rigorous Nutrition Science program. After graduation, she was accepted into the prestigious Case Western Reserve University's combined Dietetic Internship and MS in Public Health Nutrition degree program, which is ranked among the top 10 master's programs of its kind in America.
Since beginning her graduate studies, Meghan has distinguished herself in her new city and earned a student scholarship award from the Greater Cleveland Academy of Nutrition and Dietetics.
So, how did Sage contribute to Meghan's success?
Well, again, Sage was a great fit for her. "It was easy to make friends," she remembers. "By the end of the first semester I knew everybody's name. Additionally, I really took advantage of the one-to-one contact you can have with your professors. You are able to drop in at office hours pretty much whenever you need to. So, I did."
She also found her studies in Nutrition Science even more interesting than she'd thought they'd be. "My professors weren't just knowledgeable, they were passionate about what they were teaching us. They made class really interesting by bringing in outside speakers and discussing in-depth case studies with us."
In the process, Meghan says, she was primed to succeed.
Once accepted at Case Western, Meghan was nervous about whether she could meet their high standards. "But I was so well prepared," she says. "Graduate school is an adjustment, but Sage gave me the tools needed to succeed."
By the way, Case Western has nearly 12,000 undergraduate and graduate students. So, it seems Meghan is continuing to flourish in large settings as well.